(Last Updated On: August 29, 2021)
So, you want your reader's feedback?
That's a brilliant idea!
The best way for getting your reader's authentic feedback is through surveys
Surveys allow everybody to participate even your silent readers who are too shy to leave comments on blog posts
They also make your readers feel involved and they get the feeling of ownership
It shows that they are being valued and listened to
Everybody wants to be heard, isn't it?
Adding on to that, knowing your audience's interests and expectations is a great way of improving your user experience
It is a way of building a strong relationship with your audience which will result in higher conversions
So, how do you go about it?
Some links in this section are affiliate links. I may earn a small commission to buy toys for my kids if you use these links. You will not be charged extra. I only recommend high-quality products and I don't recommend them based on the small amount I earn if you decide to make a purchase
How To Create A Reader Survey In WordPress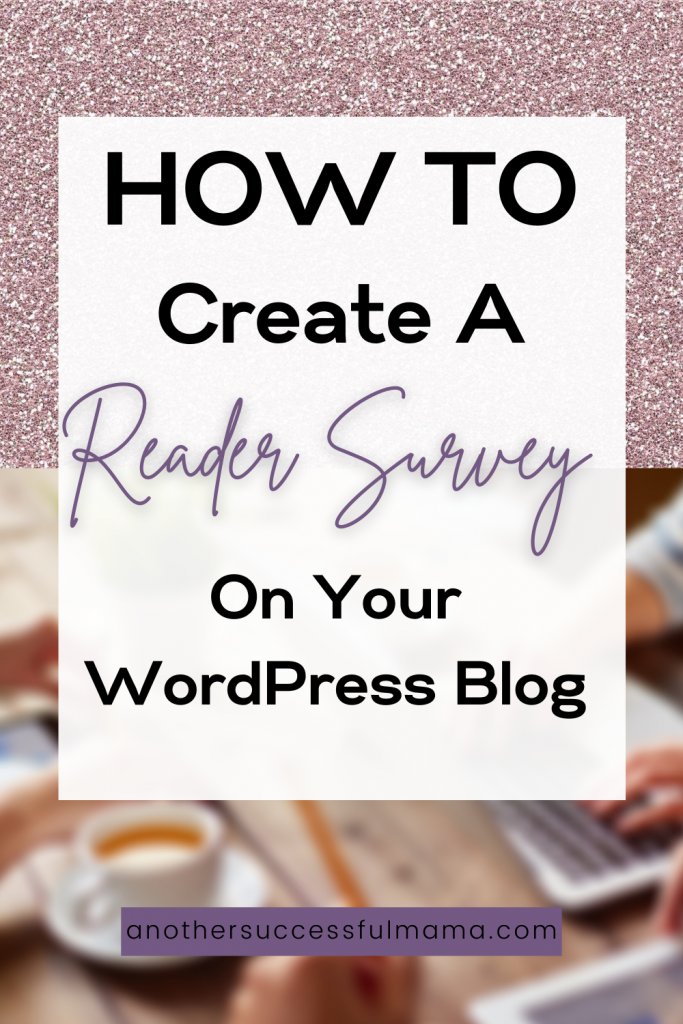 The old school ways for creating surveys were:
a) Write a survey in the form of a blog post and ask your readers to leave their feedback in the comment section
This worked pretty well back then especially on well-established sites
But the downside of this method is that only a few readers would participate
Why? This is the same with blog commenting,
Your mousy readers won't participate, not everyone is comfortable with sharing her/his opinion in public
Also, your competitors will use the information (provided by your readers) to improve their blogs and obviously beat you in the game
b) Use a survey plugin that lists all questions at once
Some sites use this method but they hardly get the results they want
A long list of questions is so overwhelming and dull, in most cases a reader won't complete a survey
Honestly, these types of surveys are boring I personally wouldn't waste my time reading and checking every question
So, what is the best way of creating a survey?
The best way is to make your survey feel more human
Make your readers feel like they are having a face to face conversation with you
That way almost 80% of your readers will participate,
Even if you have a long list of questions they will probably complete your survey without noticing
To create this type of survey you need a conversational form plugin
Which allows you to ask one question at a time
I am going to show you the best plugin to use and how to create a conversational form
How To Create Conversational Forms In WordPress
Folks used to create conversational forms using SAAS (software as a service) tools which stored their forms data on its servers
This means trusting the third party for your data security
Amongst all those SAAS applications Typeform was the most popular one but it is expensive especially to small bloggers
Their premium plan starts at $350 USD a year and if you want more features then it will cost $700 USD a year!
They have a freemium plan but it's too limited which is why it is less attractive for WordPress users
Luckily the WPForms team upgraded their contact form plugin and they have created a Typeform alternative for WordPress
Conversational Forms by WPForms lets you create interactive forms for only $199 USD a year
That's not all, the WPForms Pro plan gives you unlimited forms, surveys, polls and more powerful features
Unlike SaaS tools, WPForms is an open-source plugin which means all your form data is stored on your site
Creating Conversational Forms In WordPress
Itching to start creating your first survey?
Let's get this party started!
First, you need to install and activate WPForms
WPForms is a lite weight contact form plugin downloaded by over 1 million WordPress users
It is mainly used for creating contact pages for free
Follow this guide if you haven't created your contact page
NOTE: You need at least a Pro plan to access the conversational forms addon
Once you have activated the plugin, on your WordPress dashboard visit WPForms >> Settings add your license key and click verify key
You can find your license key information in your account area on the WPForms website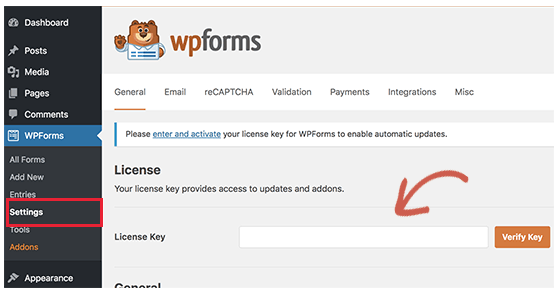 Now that you have verified your license key, go to WPForms >> addons and find the Conversational Form addon
Click install and the plugin will install and activate the Conversational Form addon within a few seconds

This is where we are now,
When you see the addon status as 'Active' it means that you can start using it

You can enable conversational forms for any form that you have created with WPForms:
Survey forms
User registration form
Clients feedback form
Event registration form
Donations Forms
Since we are going to create a conversational survey form in this guide, you need to create a regular survey form first
In your WordPress admin area Click WPForms >> Add New
It's very easy to create a form with WPForms
It uses a simple drag and drop interface, you can drag form fields on the left side to the form fields on the right side
Here is how WPForms survey form editor (sample) looks like: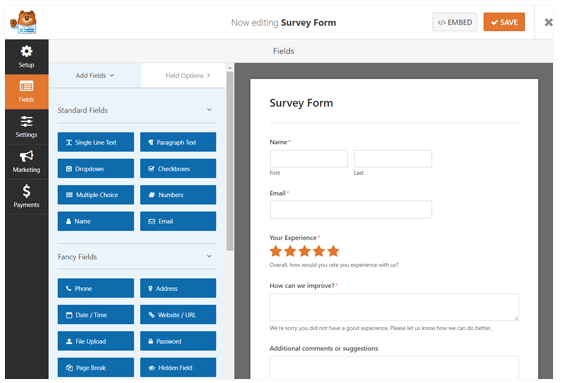 After adding your survey questions, click settings >> conversational forms on your left panel
Check 'enable conversational form mode' to activate the conversational form settings and customization options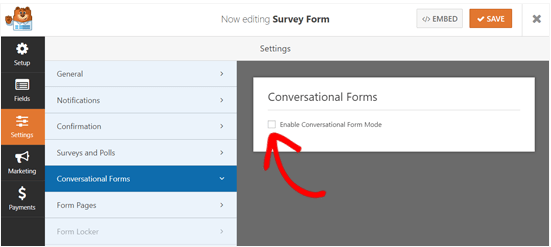 These options allow you to design a beautiful conversational form landing page with your message, logo and brand colours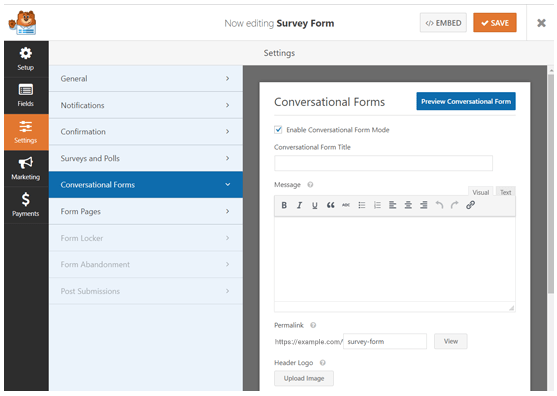 Enter a short descriptive title for your form on the 'Conversational form title' box
You can write anything, for example: Please, Take our Survey!

Next, add a short message in the message field to encourage folks to complete your form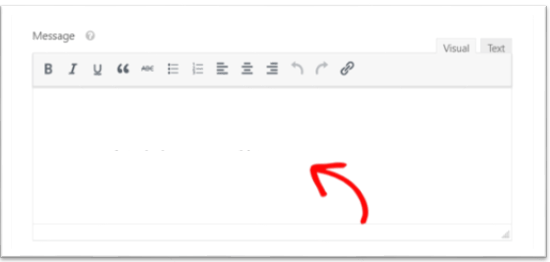 You are doing great!
As you scroll down you will see the permalink option
It's is a unique URL for your conversational form landing page
WPForms automatically creates permalinks for each conversational form by using your form's title
You can change the URL if you like

You may want to use this URL in your email campaigns or social media posts, so make sure it's short and simple
Now let's customize your conversational form by adding a header logo
Click upload image and upload your logo
Below that there is a checkbox option to hide WPForms branding,
Check the box if you don't want to display the 'Powered by WPForms' message on your form

Do you want to preview how the branding appears?
Simply click preview conversational form on the top right corner

After that, you can customize your form submit button and background page colours by selecting your brand colours in the Colour Scheme
You can use the colour picker if you don't see your brand colours amongst the pre-set colours

Next, there is a progress bar option, there are two styles: Percentage and Proportion
You have an option to choose one style, the screenshot below shows how each progress bar looks: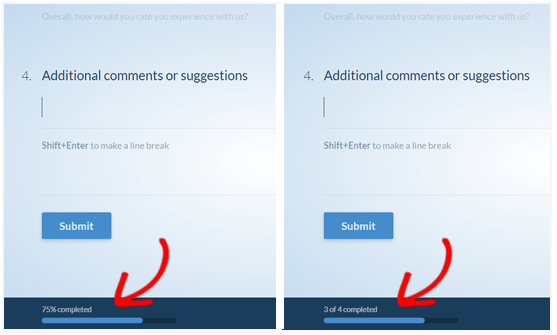 After configuring all your settings don't forget to preview and see how your conversational form looks on a live site
Now click 'save'

Yay, you did it!
You have created your conversational form
Congrats!
You can now add your conversational form landing page link to your WordPress navigation menu, social media updates, blog posts or use it in your email campaigns
You may also want to check out this tutorial: How to track your blog traffic in WordPress
Wrapping Up
It's a good practice to survey your blog readers every now and then.
This helps you build a strong relationship with your readers and improve their experience on your blog
Remember you can not guess what they expect from you or their experience on your blog
You need to ask for their feedback,
A simple and effective way to get their feedback is by creating surveys with WPForms' Conversational Forms addon
It is guaranteed to increase user engagement and response rate.
Have you ever created a reader survey before? how were the results? what tool did you use? please let me know in the comment section below
Do you have any question(s)? Feel free to ask me I am always ready to help
I hope this post helped you, please show some love kindly share with your peeps and don't forget to follow me on Pinterest

Mathea Ford is a blogger, dietitian and mom of 2 just working on this blog to make life a little better for those around me. Check out her latest posts