(Last Updated On: August 29, 2021)
WordPress plugins
What's so special about them?
Why's everyone talking about plugins? what are they?
Do I need them?
Is that you? well let me help you
You NEED plugins!
They make your WordPress experience easier than you can imagine
In this post, I'm going to walk you through the process of selecting WordPress plugins
And I'm going to show you how to install plugins in WordPress without breaking your site
*This is going to be fun*
But first, let me answer your burning questions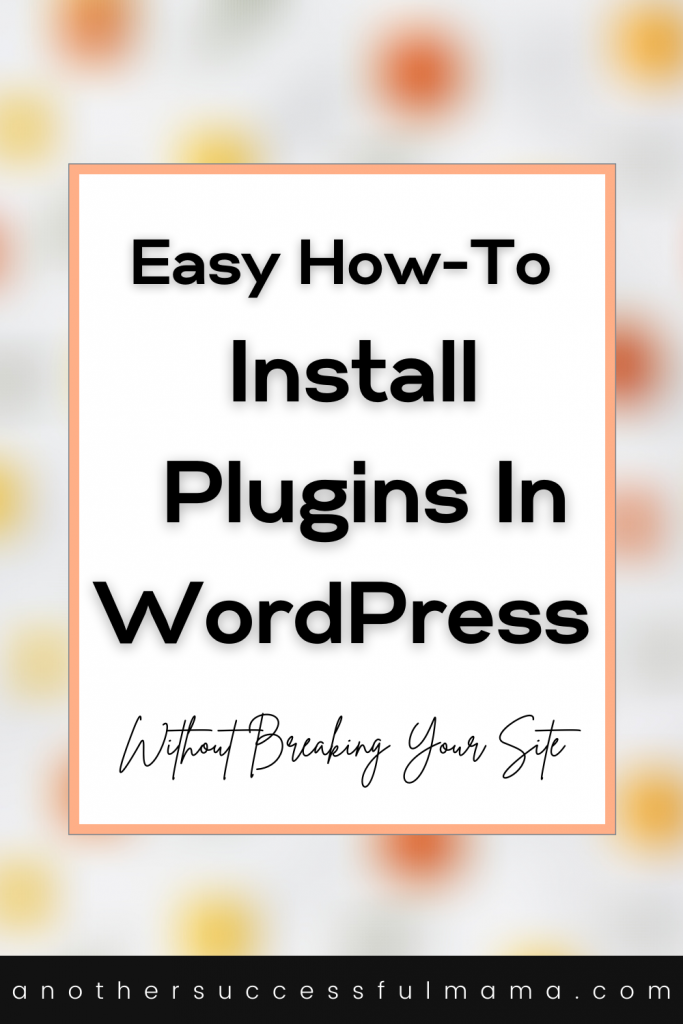 What Are WordPress Plugins?
I love making things easy to understand
So let's pretend you are a fairy, you know fairies need magic wands to do their magic, right?
So in WordPress plugins are your magic wands
They allow you to add complicated or advanced features on your WordPress blog easily without learning a single line of code or hiring a developer
They're pieces of software that contains several features and are created with non-techy savvies like you and me in mind
So don't worry about adding cool features on your blog,
Think of social sharing buttons, author bio, related posts you name them
You can add all those features on your WordPress blog seamlessly
And the best part is, there're thousands of free WordPress plugins available at the WordPress plugin directory that you can start using anytime 
That's one of the added blessings for using WordPress
Some links in this section are affiliate links. I may earn a small commission to buy toys for my kids if you use these links. You will not be charged extra. I only recommend high-quality products and I don't recommend them based on the small amount I earn if you decide to make a purchase
What Is The Difference Between A Free And A Premium WordPress Plugin?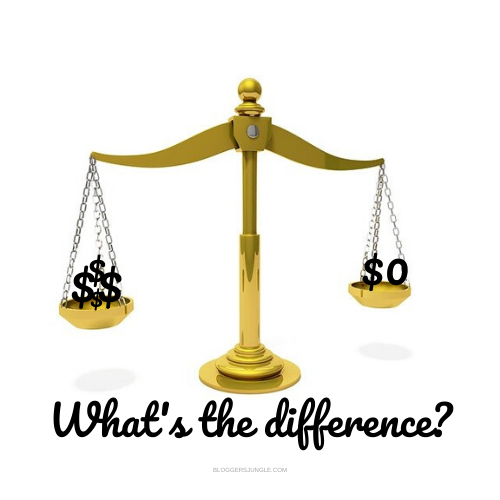 Naturally, as humans when the word free is used Paid instantly comes in our minds
I'm sure you've already guessed that there are premium (paid) plugins out there as well
And you are right!
There are also thousands of paid plugins out there
In most cases, free plugins have both a free and a paid version
The difference between a freemium and a premium version of a plugin is the advanced features that the plugin developers add to their premium version
For example, there is a plugin called WPForms you can only use it to create contact forms for free and that's it 
But if you upgrade to a premium version you will be able to create payment forms, bonus forms, surveys, polls, signatures, the list goes on  
Is It Necessary To Pay For WordPress Plugins?
Oh I used to ask myself if paying for a plugin was necessary
Especially when some bloggers and affiliate marketers made it sound like I don't have a choice but pay for a plugin they promote
You know that situation when you are searching for something that will do that magic trick on your WordPress site and someone tells you that a free plugin won't cut it at all
And then you feel like a total loser because you don't have a single penny in your wallet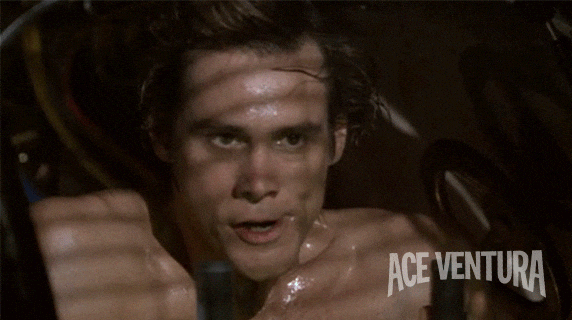 On the other side, a good Samaritan is marketing a free plugin which got similar features
Then you're stuck in the middle battling to decide whether it is necessary to pay for a WordPress plugin or not
Let me help you before you get into that situation
The truth is… it depends on your preferences
For instance, when a free plugin has all the features that are paid for on other plugins
There is no reason for you to pay for a premium version
Unless if you're like me who doesn't like switching plugins every now and then
Another reason why it might be necessary to pay for a plugin is when you want full support from the developers
Because most developers don't give support to free users
That being said, some plugins don't have freemium versions
For example, there is Tasty Pins a cool plugin that I can't get off my mind till I buy it
It allows you to add multiple Pinterest pins and pin descriptions on your pins and hide them inside your blog post 
This plugin is awesome, it makes it easy for your readers to pick a pin of their choice when they want to share your post
And the cool part is your pins will not be scattered all over your post, they will appear when your reader clicks a Pinterest share button
So coooool right?
Like I said the plugin doesn't have a free version
This means if you desperately need that feature (like I do) then it becomes necessary to pay for the plugin
Can WordPress Plugins Affect Your Site Speed?
When you sink deeper in the blogosphere you will hear LOTS of noises about plugins
There is a time when I wanted to uninstall all of my plugins and learn some coding so that I could save my site because some "SEO experts" were saying that all WordPress plugins affect site speed
Well I failed to understand tech gibberish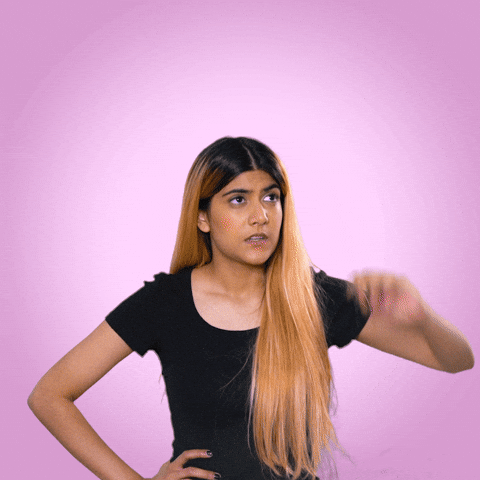 So I researched more about using WordPress plugins
The truth is,, well-coded Plugins won't affect your site speed
But you mustn't install plugins that have similar features
For example, if you have All in one SEO plugin and you hear all the Yoast SEO praises across the net in such a way that you can't think of anything but to lay your hands on the awesome Yoast
You will have to deactivate All in one SEO first and then install and activate Yoast SEO
Using them both will definitely slow down your site or break it even though they're both well coded
(This applies to all plugins which have similar features)
That said, it's a good practice to uninstall all the plugins that you aren't using
Only keep the useful plugins
And there is something that I want to make clear before you install any plugin
I know that you will hear this somewhere
Again some "SEO gurus" say you should use only 5 or fewer plugins on your WordPress site because if you use more than that you will slow down your site
Well that's just a myth, it's not true
And it's not practical, you will discover that the more your blog grows the more your demand for other WordPress features
This means you will need to install more plugins unless you know how to code
Having more useful well-coded plugins won't slow down your site (well coded is the keyword here)
At WPBeginner they use over 60 plugins and their site isn't slow at all
What matters is the quality of the plugins you install not the quantity
How Do You Know Which WordPress Plugin Is Safe To Use?
I have mentioned earlier that well-coded plugins are safe to use
This means there are some plugins that aren't safe at all
They might break or slow down your site
Or even worse, open gates for hackers and get your innocent blog hacked with a single click because they might contain malicious codes
That's bad news
But don't fret, all you need to do is cautiously select your plugins
Here's how:
Before installing your desired plugin visit WordPress.org and read all the reviews of the plugin you want to install
Install plugins that are recommended on your favourite review site, favourite WordPress tutorials site or by a blogger you trust
How To Install Plugins In WordPress
Now that you know all the essential deets about plugins it's time to learn how to install plugins in WordPress and install your favourite plugins
There are two options for installing plugins:
1) Installing A Plugin via WordPress Plugin Search
On your WordPress dashboard click plugins then click add new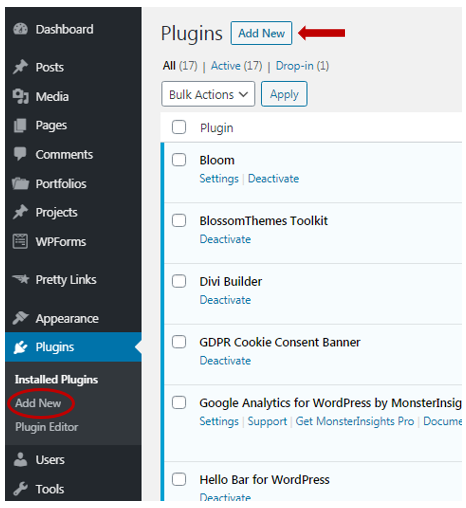 NOTE: All the plugins you find here are free and are open for WordPress.org users
You will see a list of WordPress plugins and there is a search box on the right side
You can either enter the name of the plugin that you want to install or type in some keywords that are related to the plugin that you want
For example, if you want a maintenance mode plugin that allows you to close your site when you are making some changes and display a notice that your site is undergoing maintenance
Type in maintenance and you will see all the maintenance mode plugins, select your favourite and click install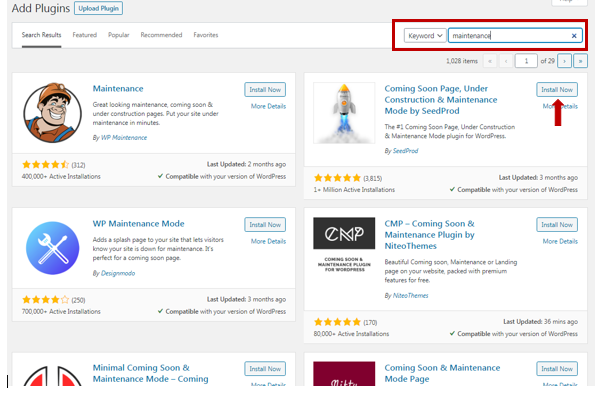 After installing your plugin don't forget to click activate for your plugin to start working
B) Installing a plugin as a Zip file Via Admin Plugin Upload
The second option is by uploading a plugin in a zip file format
This is an option for those who want to download a plugin directly from the developer's site
It can be free or a paid plugin
If it's a paid plugin you will be able to download it when you complete your payment
For this tutorial's sake, let's download Monarch a social sharing plugin by Elegant themes
First, I will visit Elegant themes and login to my dashboard and click a download button under Monarch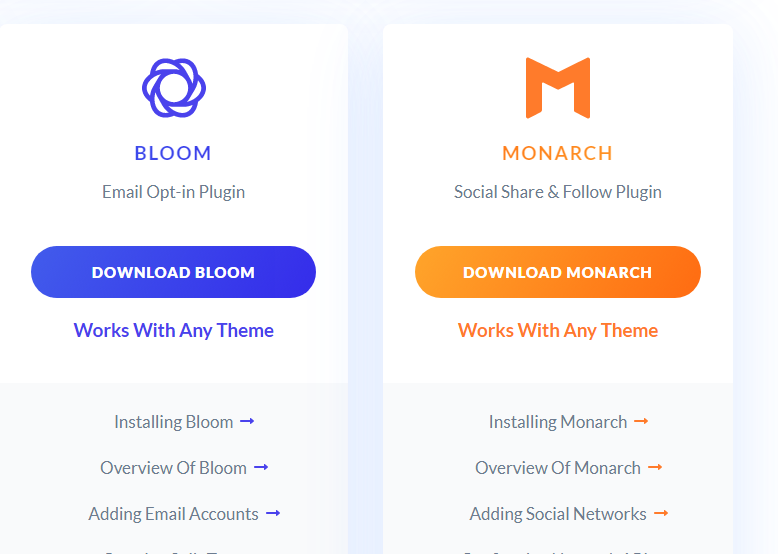 After downloading, the plugin will be in a zip format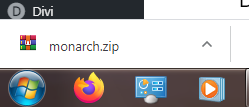 Now head over to your WordPress Dashboard
Click plugins >> add new and click upload on the left side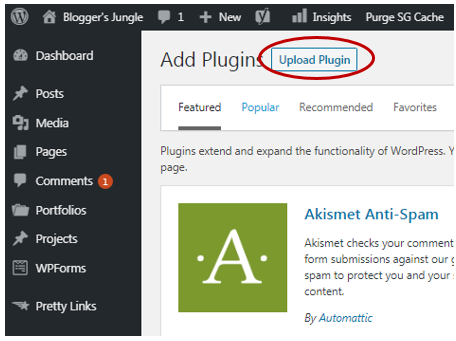 Now click choose file, from there you will be directed to your computer
Select the plugin zip file and click install now

Once your plugin is successfully installed don't forget to activate
Remember to configure all the settings and you're done!
Congrats! you're now one of the best WordPress plugin installers in town
Congrats! Now You Know How To Install Plugins in WordPress
Installing plugins can be fun but don't get carried away you might end up doing more harm than good
Remember some WordPress plugins can break your site
Download plugins that are only useful to you
If you feel that you will need a certain plugin later then don't install it, wait for the right time and don't worry it will remain free
Do you have a favourite plugin so far? let me know in the comment section below, I would love to check it out
Feel free to leave a comment if you have any questions, I'm always ready to help you
I hope this post helped you, please show some love kindly share with your peeps and don't forget to follow me on Pinterest

Mathea Ford is a blogger, dietitian and mom of 2 just working on this blog to make life a little better for those around me. Check out her latest posts