(Last Updated On: March 2, 2021)
Do you love reading income and progress reports? You are just like me
I love reading progress reports so much that I even created a Pinterest board sorely for that
Reading other bloggers' progress reports helped me with realistic insights about blogging and how folks can actually become successful with their blogs
I'm so excited that I am sharing with you my first report after launching this blog again
Early this year I once created a blog and then later destroyed it due to some challenges I was facing and I wanted to quit blogging
But something amazing happened and I decided to start blogging over again
My domain name was still active so I just installed WordPress and started my blog from scratch with 0 readers 0 pageviews 0 income
Some links in this section are affiliate links. I may earn a small commission to buy toys for my kids if you use these links. You will not be charged extra. I only recommend high-quality products and I don't recommend them based on the small amount I earn if you decide to make a purchase
---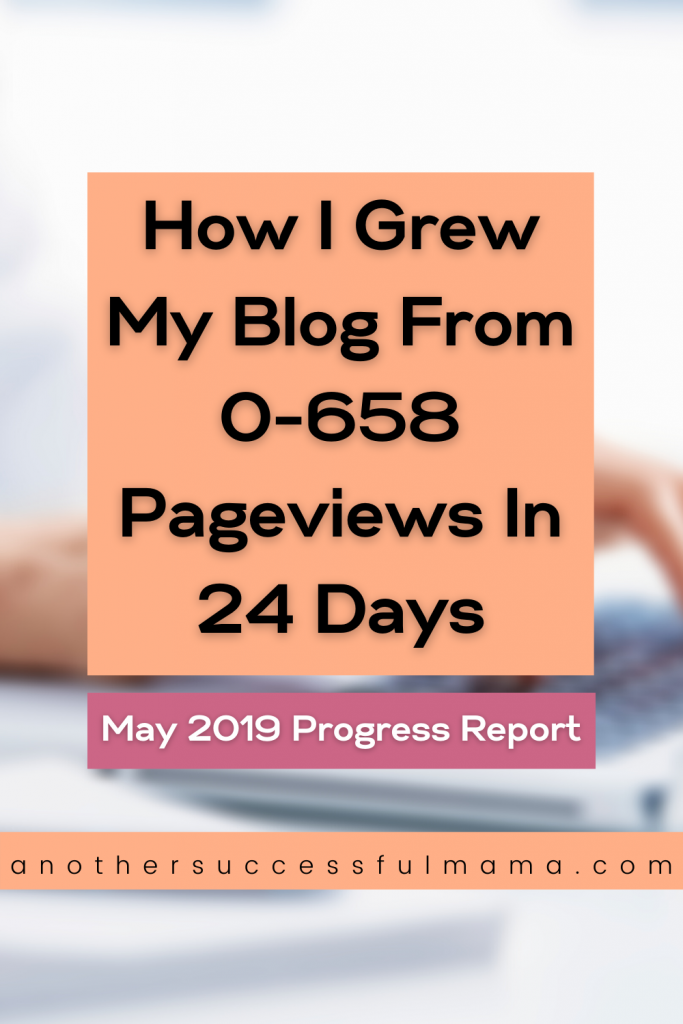 My goals for May where:
Reach 800 Pinterest followers – (had 225 before) Fail! had 705
Publish 10 blog posts – Fail! Published 6 Posts
Reach 500 page views – Success! managed to grow my blog from 0-658 page views
Have 10 email subscribers- Success! got 12 subscribers
Taking You Back In A Few Lines
I started blogging on a free platform and I didn't reach anywhere close to 100 page views
When I upgraded my site I deleted everything and started over again, nothing changed but things got worse and I lost all my readers
There is a post with all the details here
I started over again and I failed,
Though my blog was getting some traffic (on my second attempt), I have never had anything close to 500 page views that's the other reason I gave up blogging
I am glad that this time around my blog is showing fruitful results
Reaching 658 page views in 24 days isn't much but honestly it's exciting!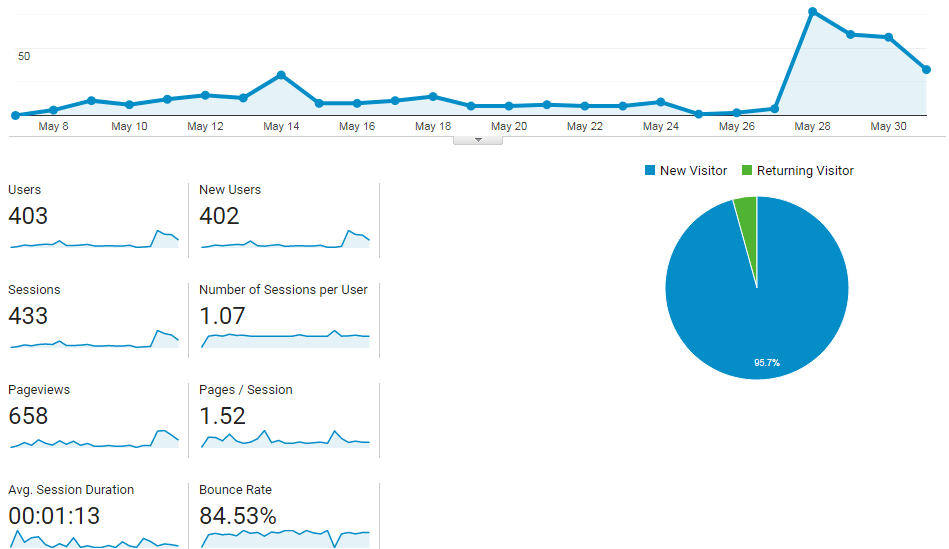 It shows that the strategies that I was implementing throughout the month were effective
I know how frustrating it is to spend long hours and sleepless nights crafting your great post only to have nothing but crickets on your blog
We all love visitors on our blogs (that's why we are blogging)
And I am going to share with you everything so that you have the same experience as mine or do even more than I did
---
How I Grew My Blog From 0-658 Pageviews In 24 Days
Why 24 days?
I decided to start blogging again during the end of April
I wrote one post and 2 pages but didn't launch my blog
It was on maintenance mode, I wanted to fix everything before launching
I even started building my email list since day 1
After having everything in place, I launched my blog on the 7th of May with 0 visitors, so I had to find ways to drive traffic to my blog
I am going to list 3 ways that I used to drive traffic to my blog
3 Free Ways That Drove Traffic To My New Blog
Before taking action, I outlined my weaknesses so that I could figure out everything to avoid failures
The main weakness was money, I didn't have enough money to pay for my host
I was hosting my site on wealthy affiliate and I had to pay $49 every month
Which was too much, and I couldn't afford to pay yearly
I had to focus more on finding ways to pay my host than on building my blog
I then decided to move to a new host and I moved to Siteground which is affordable only $47 a year
I love everything about Siteground, their support team is amazing and the speed is splendid.
After moving to a perfect host I started focusing on my readers and my site and here is how I grew my traffic
1. Publishing Useful Content
Have you ever heard this phrase, "content is king"?
Well it's true, if you publish valuable content you will get more readers to your blog
You need content that solves your reader's problems
To do that, I started visiting more authority sites to see how other bloggers are doing and also for some inspiration
I started grabbing every freebie from those sites
And I am focusing more on How-to posts and tutorials to make sure that I help you in any possible ways
My second traffic source is direct traffic, which means folks are typing in Blogger's Jungle directly on their browsers because they know what they will get from this blog
The first tutorial that I posted clocked 100 shares within 2 weeks
But, unfortunately, the social sharing plugin that I am using started acting up and the share counts started fluctuating up and down
My other post had 56 shares and one morning I wake up only to find 0 shares
Visited the forum on WordPress.org and almost everyone is having the same problem with this plugin, I am thinking of ditching it
I love showing share counts so that I know how much you are interacting and loving my blog posts
2. Optimizing My Posts For SEO
Not a fan of learning SEO? You are not alone
But we don't have any choice, optimizing your post for SEO is the root of getting organic traffic
Content isn't king if it's not optimized for SEO
Therefore, I tried my best to optimize my posts and got a small amount of organic traffic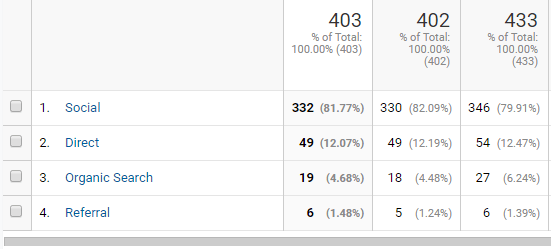 Not getting much organic traffic but at least it shows a brighter future for this blog
And I am sure if I keep learning more about SEO I will double my organic traffic
3. Pinterest
If you check on the screenshot above, my #1 traffic source is social
The only social platform that is driving traffic to my blog is Pinterest, I can't praise Pinterest much
I am so glad that I am getting more love from Pinterest
The first thing I do after publishing my post is sharing my post on Pinterest
If you haven't been paying much attention to your Pinterest account start now, it's very easy to get free traffic from Pinterest
I do manual pinning and also use Tailwind for pin automation so that I stay active on Pinterest even when I am offline
With a Tailwind free plan, you can join 5 tribes, pin 30 pins monthly on tribes and schedule 100 pins
Want to learn more about Pinterest? I have found this course to be extremely helpful
---
Top 5 tools that I was using in May:
There are other tools that I recommend and some that I personally use that I didn't add to the above list you can check them out on my resource page
---
Goals For June 2019
That was all for May and now we are looking forward to June
Pinterest is my main source of traffic, so I will be focussing more on Pinterest but that doesn't mean that I will not be paying attention to other fields
So here are my goals for June:
1000 page views
20 Email subscribers
1500 Pinterest followers
Publish 10 posts (planning on focusing more on quality over quantity)
***UPDATE*** I want you to benefit from my income and progress reports, posting them monthly might end up demotivating you, (for instance, if my traffic or income keep decreasing every month) My aim is to help you grow your blog so I have decided to publish milestone income/progress reports. Here's an example, I shared how I made my first $100+ blogging. I hope you understand
---
Over To You
Did you start blogging yet? Leave a comment below and tell us how was your first month
And if you haven't started yet let me know what's holding you back, would love to help
If you have any question(s), feel free to ask me I am more than ready to help you
I hope this post helped you, please show some love kindly share with your peeps and don't forget to follow me on Pinterest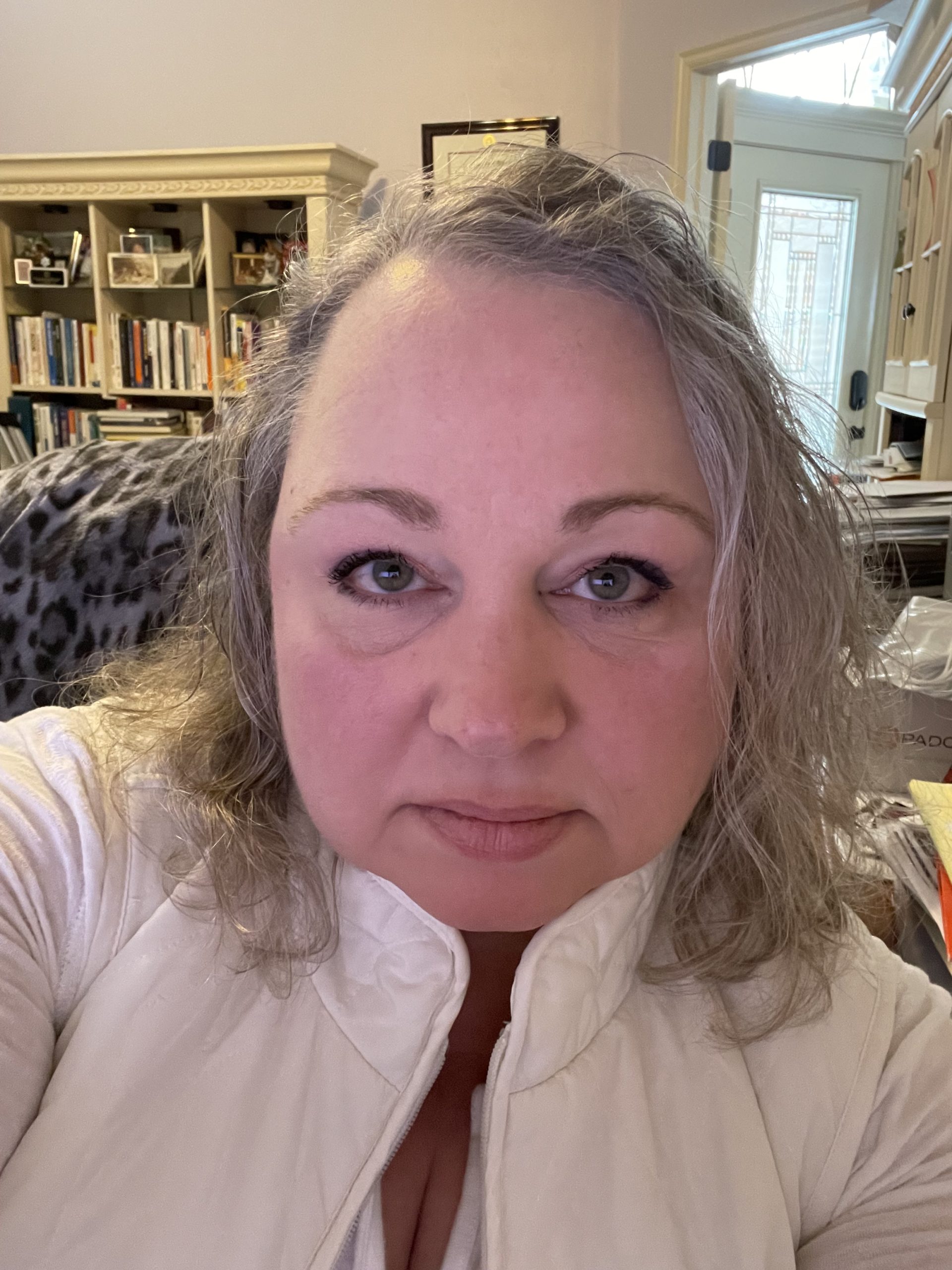 Mathea Ford is a blogger, dietitian and mom of 2 just working on this blog to make life a little better for those around me. Check out her latest posts