(Last Updated On: August 25, 2021)
Let me guess
You've been through a series of buying crap courses about affiliate marketing and blogging
And you've had enough
You don't wanna waste your money anymore
Or maybe you want to learn affiliate marketing but you are afraid of investing in a course and waste your hard-earned money?
Whatever the reason might be, I understand
I've been through a series of buying crap courses too
I know how it feels when someone takes advantage of your situation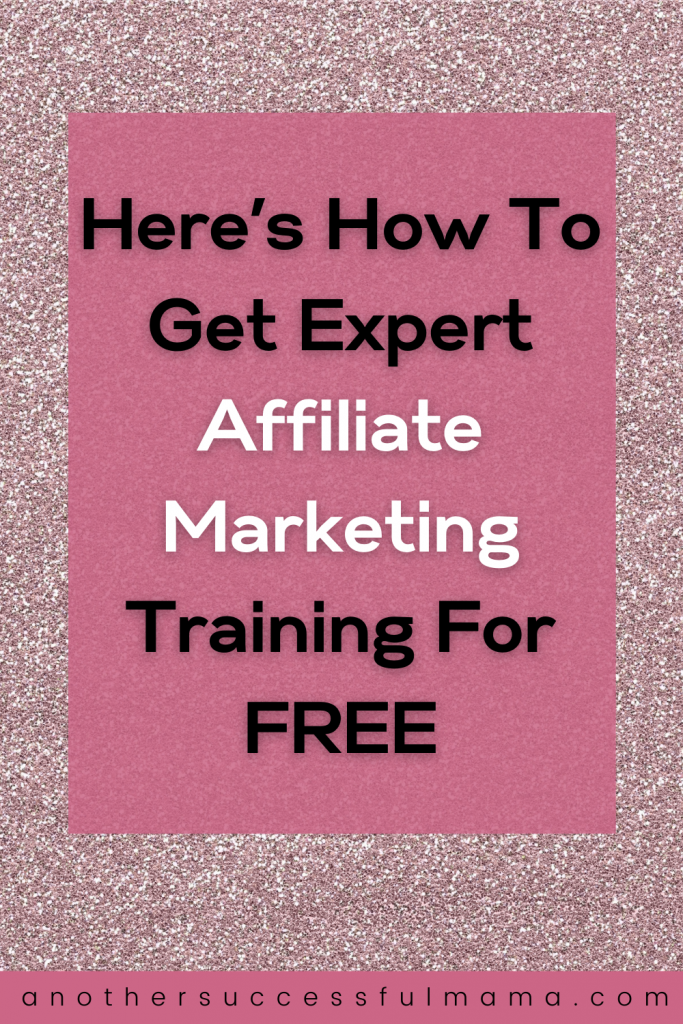 Some bloggers out there are wolves dressed in sheep's clothing
They pretend to be nice and recommend courses they never tried, just to earn a small commission
They only care about the money and target innocent new bloggers because they know they desperately want to learn and make their first $1000
Disgusting!
Thank goodness there is a way you can get affiliate marketing training for free
Yes dear you won't pay a dime
Strictly no credit card needed!
Sounds great right?
I wholeheartedly want to help you learn affiliate marketing and earn your first $100 online
And I want you to at least get the basic affiliate marketing knowledge without spending a dime
Where To Get Expert Affiliate Marketing Training For Free
I want to introduce you to an affiliate marketing platform
Some call it an affiliate marketing university
Some say an affiliate marketing school
And they are all correct
You will get gold info on this platform
If you've been following this blog I'm sure you have read my June income report
I made $127.97 with ShareASale alone and a quarter of the money was from affiliate sales
I also made money with a dead blog and it was an affiliate commission
Not forgetting how I managed to rank #1 on Google and Bing with a new blog
Why am I telling you all this?
Am I bragging here? hell no
I want to give all the credit to this platform
That's where I was taught affiliate marketing
That's where I was taught how to rank #1 on all search engines
Not yet an expert but I'm getting there
And I want you to celebrate one day
I want you to tell your own success story one day
I want you to join Wealthy Affiliate (that's the name of the platform) and get top-notch affiliate marketing training for free
Honestly, you will love it
Here is what others are saying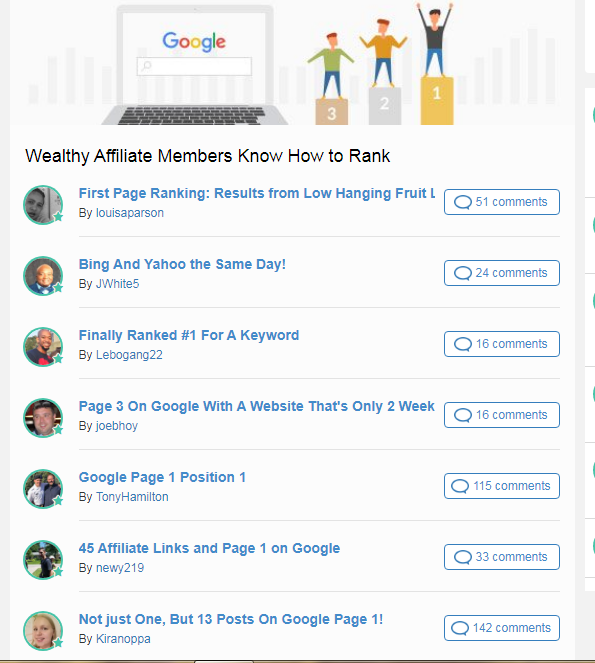 Who doesn't want to rank? absolutely NO ONE
That's not all, almost every WA member is celebrating a certain achievement
Some are celebrating ranking #1
Others are celebrating their incredible affiliate sales: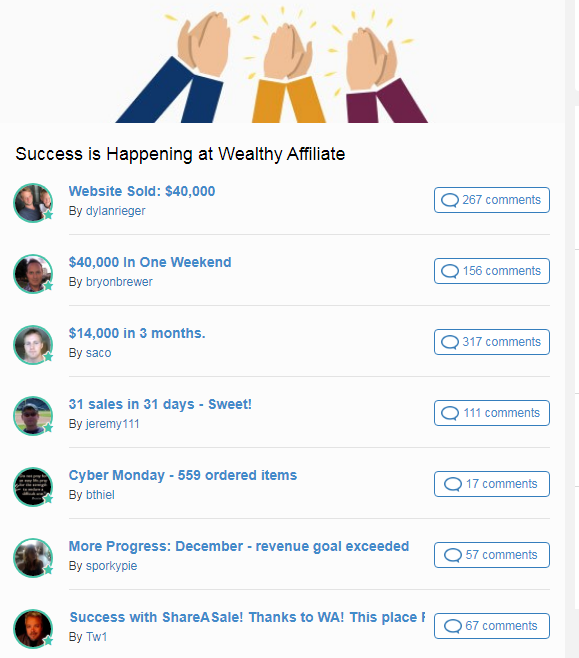 Did you see how many comments these peeps are getting?
Wealthy Affiliate has a very supportive community
You will meet new friends
When I say friends I'm talking about real bloggers and affiliate marketers here, not ordinary friends
Some of them are professional six-figure bloggers and they share free advice and training also
Aah, what an amazing platform…
Sounds like a dream right?
Wealthy Affiliate is real my friend
As I said earlier you can join for free
Believe me, what you get from the free training its something bloggers are charging hundreds of dollars out there
Remember I once wasted money on crap courses, I really know what I'm talking about
What Do You Get From Wealthy Affiliate Free Training?
Don't have a blog yet?
No worries, the first freebies you get as a WA free member are two Siterubix websites
The WA training strategy is that you learn and practice what you've learnt (the training is task-based)
So since the training is all about building a profitable business online and make money as an affiliate marketer you are required to have your own website
There are two types of courses on Wealthy Affiliate, namely the Online Entrepreneur Certification and Affiliate Bootcamp
You will get access to 10 free lessons per each course
Here's what's inside the Online Entrepreneur Certification Course :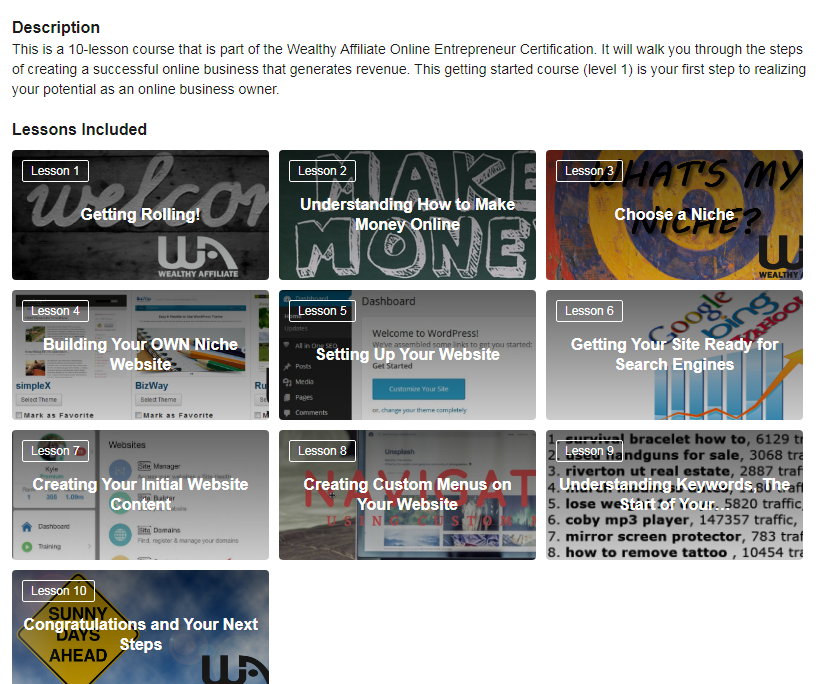 Choose your niche
Build your own niche website
Set up your own site
Get your site ready for search engines
Create your website content
Create your custom menus on your website
Do keywords research
And many more
The Affiliate Bootcamp Course: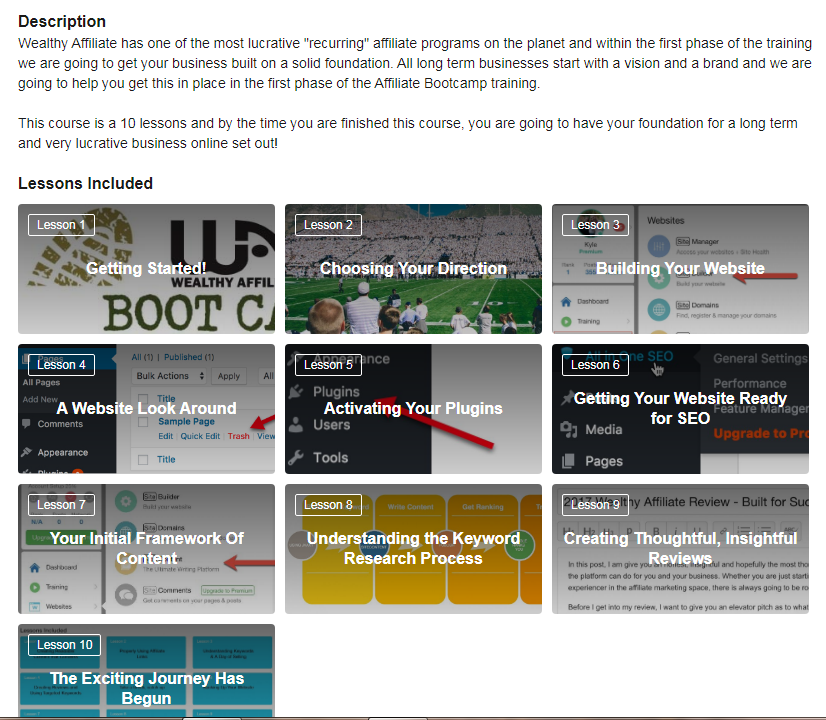 Get your website ready for SEO
Activate your plugins
Create your own privacy policy page
Create your about me page
Creating thoughtful insightful reviews
Use affiliate links
Promote your affiliate post
Plus many more
I'm sure you've seen some bloggers charging $50-$200 for everything that I've mentioned above
But you will get all this gold info FOR FREE
That's not all you will also get access to use Jaaxy a powerful keyword research tool
Wanna play with Jaaxy?
Try a few keyword searches below:
Love it? You can use it for free inside WA
Oh, I almost forgot!
When you join Wealthy Affiliate you automatically become their affiliate
This means you will earn a commission if you refer your network to WA
WA has two memberships: Free (starter) and Premium (more about it below)
To become a premium member – you pay $19 (special offer) for the first month and $49 thereafter
There is also an option to pay at once for the whole year and it will cost $359 that is 39% off the normal price
So if your referral upgrades to a premium membership you will earn:
$4 for special offer referrals ($19)
$11.75 monthly
$87.50 yearly
Do you know what this means?
It means that you learn for free=>>$0 investment, build your own site for free=>>$0 investment and earn money for free=>> +$$$
Awesome isn't it?
I guess you know how hard it is to be approved as an affiliate on other platforms when you are brand new
And you are free to join Wealthy Affiliate with or without a website
This platform is there to make your online business journey a bit easy in every way possible
Wealthy Affiliate Premium Membership
Now that I have mentioned about the premium membership, I know someone is really eager to get more details about it..lol
No worries, I have the energy to tell you more
The WA premium membership has advanced affiliate marketing training
Plus unlimited goodies such as:
1) Weekly live training
2) Instead of having 2 free websites you will have 25 free sites and 25 premium WA hosted sites
3) Access to chat with the owners of Wealthy Affiliate
The owners of WA are very friendly they interact with the WA community just as any other WA member and everyone is free to send them a private email and they respond, it's something that you can't find anywhere
4) An ability to create your own training and earn from it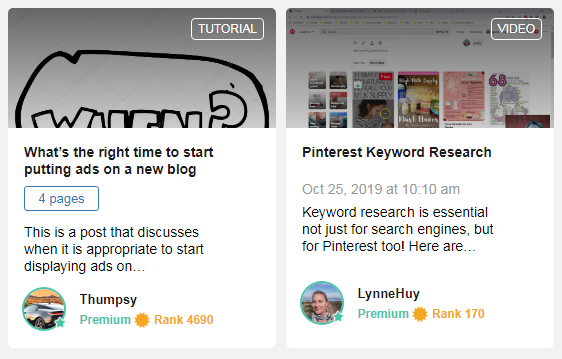 If you have any blogging or affiliate marketing skill you want to share with the WA community you can easily turn it into a training and earn from it.
5) Get free site comments
It's always a challenge to get real comments on your blog. Most blog comments are spam comments (comments generated by bots to be specific)
And comments are proven to boost your domain authority and help you rank higher
Some bloggers out there pay hundreds of dollars to get comments, some spend hours trading comments on Facebook groups
That's not the case when you're a WA member, you can simply request for comments on Wealthy Affiliate in two ways:
From a comment thread where members drop their links asking for comments and give a comment in return
Using a site comment feature- First, you comment on 1 or 2 blogs and earn credits and you use those credits to request for comments. For example, if you have 2credits you will get 2 comments or more if it's your lucky day
6) Get Paid To Comment On Wealthy Affiliate Members' Blogs
As a WA member, you can become a certified commenter and earn credits whenever you comment on other members' blogs
You can use the money to pay for your premium membership
7) 24/7 community support
Wealthy Affiliate has a very supportive community
As a premium member, you will have the ability to post questions or blog posts right inside WA and the community is always there to support you
8) Expert coaching and support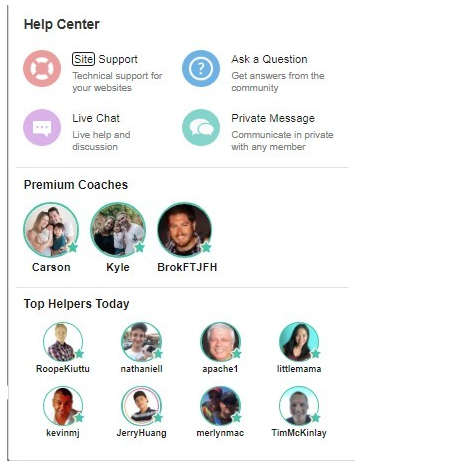 The best part I enjoy (and you will enjoy too) about WA is getting expert coaching any time
When you join Wealthy Affiliate Kyle and Carson (WA owners) automatically become your personal coaches without paying any extra fees
And WA also appoints top members daily to assist you any time you need help
Think of any place that has great support like WA…No clue?? there is no place similar to WA
9) Free website feedback

As a premium member, you can request for your website feedback from other members
All you have to do is give feedback to other members and earn credit then use the credits to request for your website feedback
10) 24/7 live chat
Wealthy Affiliate is all about giving you the best support you need
There is a live chat corner where you can simply ask anything and get instant help
This means even at 2.00 am because WA has members from all parts of the world
NOTE: You will have access to some of the premium features on your first 7 days as a free member
These are just some extra goodies
The exciting part is about the courses
This is what you will get when you upgrade:
Online Entrepreneur Certification
Unlock All levels= 5 LEVELS
Unlock 50 lessons
Join course discussions
Affiliate Bootcamp:
Unlock All levels= 7 LEVELS
Unlock 70 lessons
Join course discussions
For the record here is a comparison table of both memberships:
That's not all my friend
Premium members earn more affiliate commissions
Say you are a premium member and your referral completes her WA profile setup, you will earn $1
This means if you refer 100 people and they all set up their profiles properly (simply adding an image and a bio) you get an extra $100
If they decide to upgrade you will earn:
$8 for a special offer ($19)
$23.50 thereafter
$175 yearly
See the table below: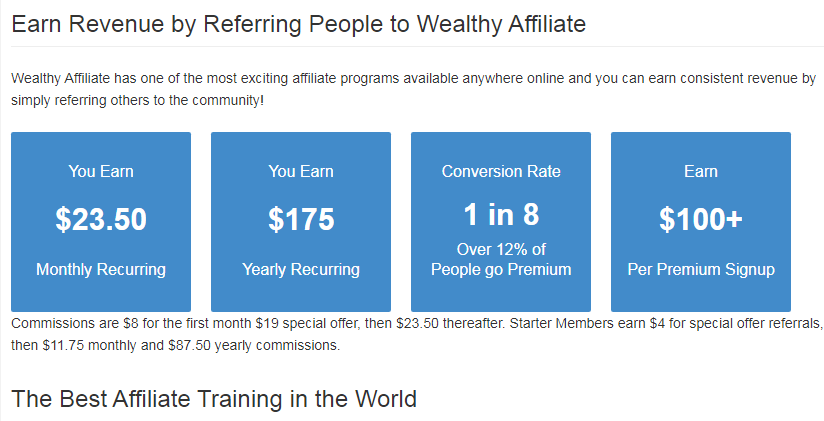 A Quick Heads Up Before You Decide To Become A WA Premium Member
WA Premium is awesome
Honestly, it's something you don't find anywhere
For only $49 a month
Wanna become a premium member from day one?
It's okay, but I want to give a quick heads up before you take action
I was once a Wealthy Affiliate premium member but right now I'm on a free plan
Upgraded without planning
I was so eager to learn more, get more goodies, network with like-minded peeps and double my commissions
And I upgraded without planning how I was going to pay for my membership
Guess what happened?
I ended up failing to pay for my membership
And the worst part is my site was hosted on WA
The experience was terrible
I couldn't access my WA account and my own site
We can't blame WA here, it was my fault
And I don't want you to make the same mistake
Make sure you plan out how you are going to pay for your membership before upgrading
If you aren't sure how but still wanna learn more I advise you to take advantage of the special offer and dedicate the whole month for WA training so that you finish all levels in a month
You will decide later what to do next, either you go free again or keep paying
Another way is to pay yearly to avoid unnecessary problems
Though I earn a commission (if you upgrade) I highly recommend you to start with a free plan
I don't want you to experience what I have experienced
Take your time and plan
That was a friendly advice
But that doesn't mean WA isn't awesome
It is the best affiliate marketing platform you can ever join
I really want you to check WA out, you will thank me later
See Ya Inside WA
Stop wasting money on crap courses
Wealthy Affiliate gives you free training and an ability to earn money while you learn
It's up to you to upgrade or remain a free member for as long as you like
What more would you like?
Join Wealthy Affiliate now and start building your very own blog at a $0 investment
Feel free to ask me anything about WA I am here to help
---
Liked this post? Kindly share with your friends and don't forget to follow me on Pinterest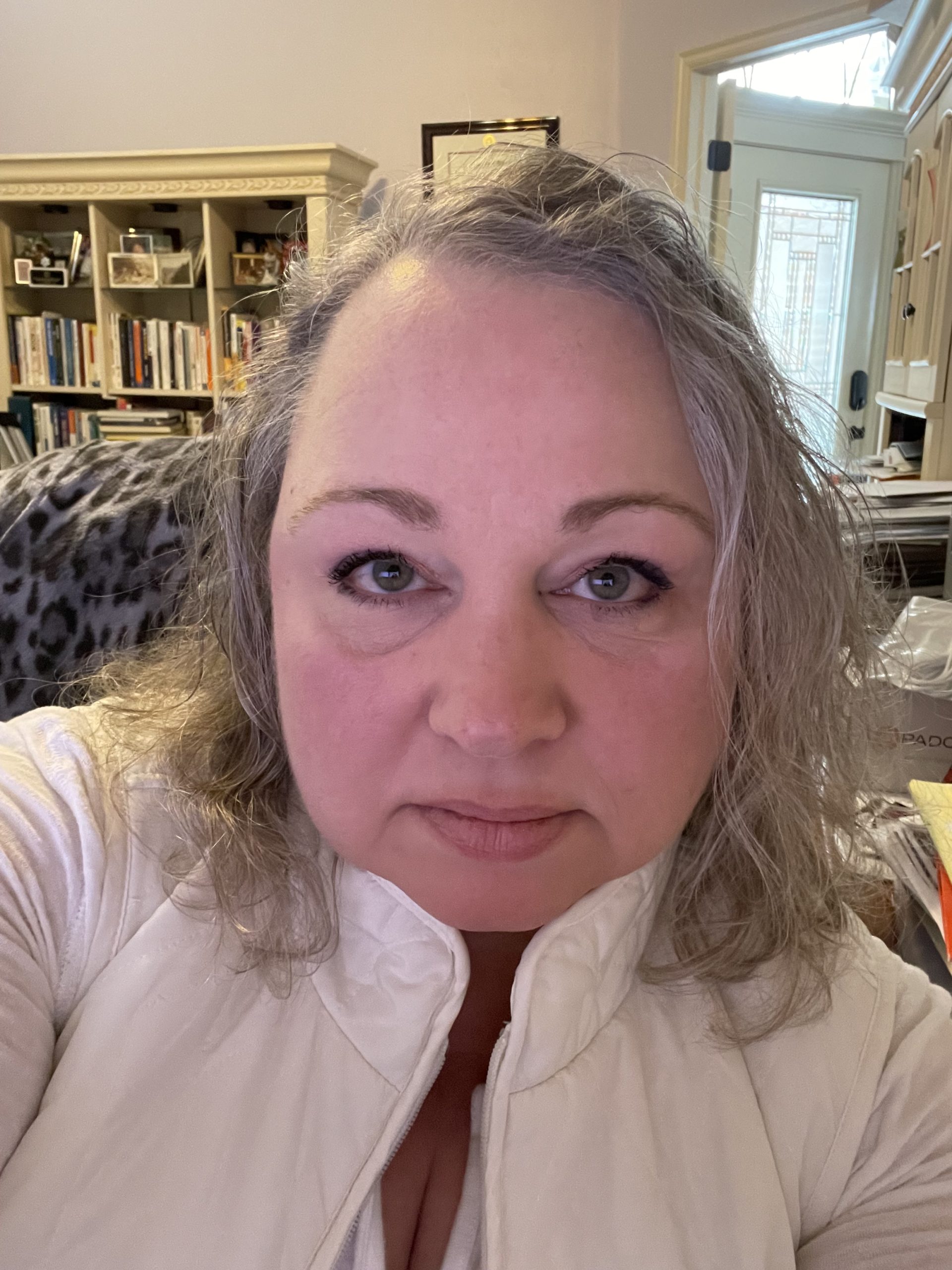 Mathea Ford is a blogger, dietitian and mom of 2 just working on this blog to make life a little better for those around me. Check out her latest posts