(Last Updated On: August 29, 2021)
So, you have finally decided to start your own blog?
That's an excellent decision!
Folks are making a living from blogging, what will stop you?
Nothing, right?
But did you know that as much as there are lots of new blogs created every day there are millions of failed blogs as well?
Some of those blogs do not last for more than three months
Feeling demotivated?
Don't be, of course, you are not doomed to failure
That's why you are here, let me tell you a secret behind thousands of failed blogs
Wait for it…
Some links in this section are affiliate links. I may earn a small commission to buy toys for my kids if you use these links. You will not be charged extra. I only recommend high-quality products and I don't recommend them based on the small amount I earn if you decide to make a purchase
It's because of choosing the wrong blog host
When choosing a host you should ask yourself these three questions
Will I afford it?
How fast will my site load?
Do they have good customer support?
Not sure where to get the answers?
That's why I'm here
In this post, I'm going to give you all the answers
Some new bloggers make hasty decisions when it comes to choosing a blog host
They end up with an overpriced host and fail to pay for their hosting
Or stuck with a slow loading site due to poor hosting services,
We all know that if a site is slow you won't get any readers
Remember, folks don't have the patience to wait for your post to load
There are billions of blog posts out there
They will abandon your site and go read somewhere
You will be left with your slow site and nothing but crickets
Don't take it personally my friend, but this is real
What do you think will happen if you don't have any readers for 3 straight months?
Chances are, you will quit
I don't want you to have such a painful experience
That's why I want to introduce you to Bluehost, the best host for new bloggers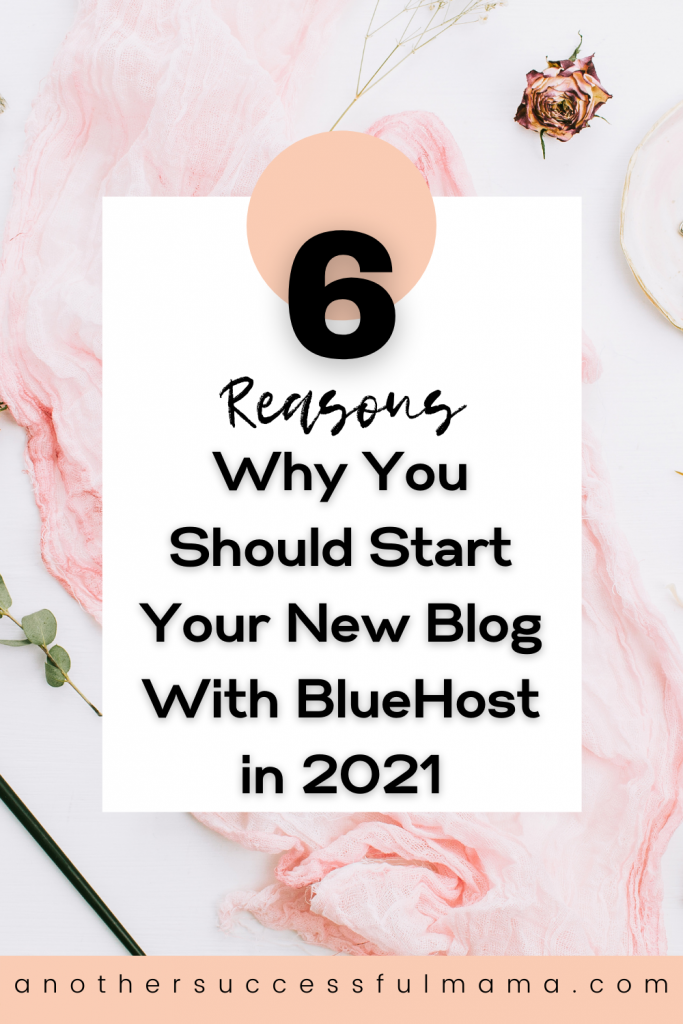 6 Reasons Why You Should Host Your Blog With Bluehost
I am sure by now you know what is Bluehost
In case you don't know, it is one of the largest web hosting services on the wide web
Bluehost currently powers millions of websites worldwide
Apart from hosting sites they also sell domain names
Remember when setting up a professional blog you need your own domain name and a perfect web host
Bluehost offers both services, but that's not the only reason I recommend Bluehost
Here is why:
1. Bluehost Is Recommended By WordPress
WordPress is the best blogging platform trusted by millions of large and small website owners
We love it because of its numerous features and ample customization possibilities
With WordPress, everyone can craft a beautiful site
By everyone I mean EVERYONE and that includes you
You don't need any coding skills to set up a WordPress blog
And the cool part is, it's FREE
No, I am not talking about WordPress.com I am talking about WordPress.org
With WordPress.org you have full control over your site
But you will need a host
And Bluehost is one of the 3 recommended hosts by WordPress
2. You Get A Free Domain Name
As I said earlier when you seriously want to create a professional blog you need a domain name
A domain name will work as your address which will be used to find your blog on the internet
Buying a domain name can be quite pricey, It costs $8.99-$15.00 to get a .com domain
Luckily Bluehost understands that new bloggers do not have enough money to spend
They offer a free domain name and free SSL certificate which means you will only pay for hosting
Cool isn't it?
Who doesn't like freebies?
Already have a domain name in mind?
Type in your domain name below and see if it's available:
3. Affordable Hosting
I have mentioned earlier that some of the new bloggers quit because of failing to pay their overpriced host
How did I know?
If you are not new here, I am sure you know that I once destroyed my blog
And one of the reasons was that I couldn't afford to pay my host
I didn't know about any other host back then
And I was hoping that in a month or so my blog will be generating enough income to pay for hosting
Boy was I wrong, I ended up quitting
Fortunately, you are not going to make the same mistake
Bluehost got you covered!
You can set up your blog for only $3,95 per month
The good thing is, Bluehost also has a 30-day money-back guarantee
So, if you are not pleased with any of their services you can cancel and get a refund
4. Bluehost Is Beginner Friendly
When picking a host on a low budget you need to make sure that the hosting provider makes it easy to set up your blog
So that you can easily create your blog by yourself
Bluehost understands that not everyone has money to hire a web developer
And they make it easy for you to set-up your blog without a hassle
Thanks for their popular c-Panel, you can quickly set up your blog like a boss
5. Fast Page Loading Speed
As I said earlier an important thing to look at when choosing a host is the page load speed
You don't want your blog to be abandoned by your readers before they read your killer blog post
Also, page speed is good for SEO, search engines reward sites that load faster by ranking them higher
That being said, Bluehost is known for amazingly fast loading times
They provide Cloudflare CDN service which allows you to speed up your blog easily
6. Bluehost Provides 24/7 Customer Support
Customer support is one of the most important things to consider when choosing a host
You don't have to host your blog to a host with little to no customer support
Imagine, you need urgent help and you try to contact the technical support but no one responds
That will not happen with Bluehost
At Bluehost, customer support is available 24/7 which means even if you need technical support at 3 am there will be always someone ready to help you
If you need help, you can chat with the support team, send a support ticket via email or call and they will help you in no time
That's not all, they also provide a help base where you can type in the problem you are having and answers will be presented to you, that is if you prefer to figure out things on your own without reaching their support team
Now that you know why Bluehost is perfect for you let me show you how to start your blog with Bluehost
How To Start A Blog With Bluehost And WordPress
As I I said earlier hosting your new blog at Bluehost is cheaper you can pay as little as $3.95 a month!
That's not all, you will also get:
Free (custom) domain name registration
Free SSL certificate
Free backups
Bluehost SEO tools (to help you rank)
24/7 customer support
It's no doubt that Bluehost is the best choice if you want to look professional whilst on a very tight budget
Ready to start your blog with Bluehost?
Let's Get the party started!
Step 1: Choose A Plan
There are 4 plans on Bluehost
Basic
Plus
Choice Plus
Pro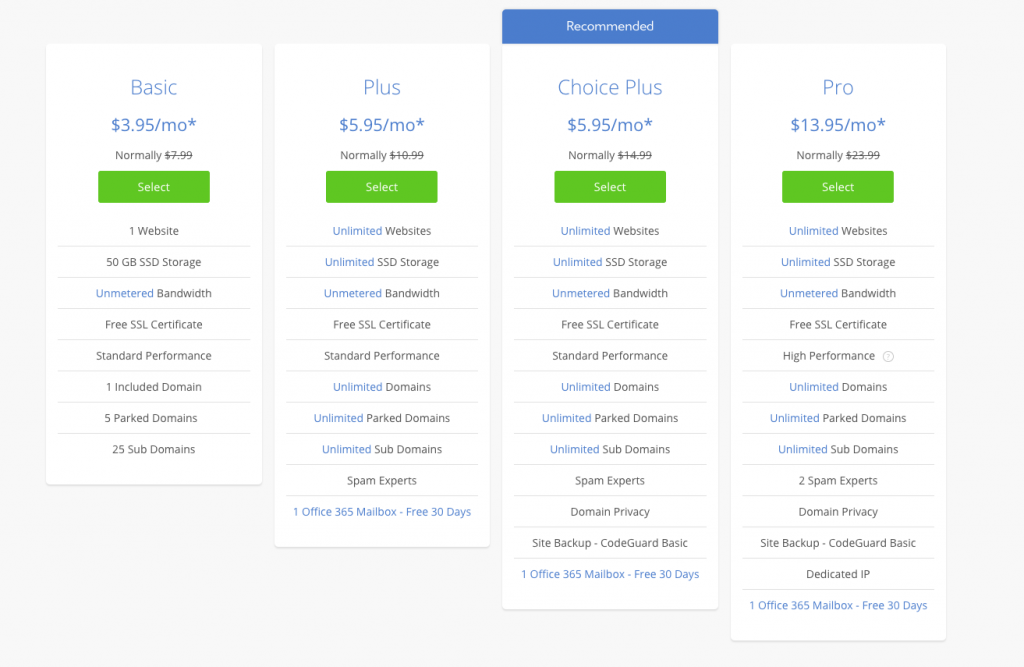 You can simply start with the Basic plan and upgrade to bigger plans as your blog grows
Step 2: Choose Your Domain Name
Remember you can get a free domain with Bluehost
Have a domain name in mind?
Enter it below and check if it's available:
If you already have a domain name enter your existing domain and click next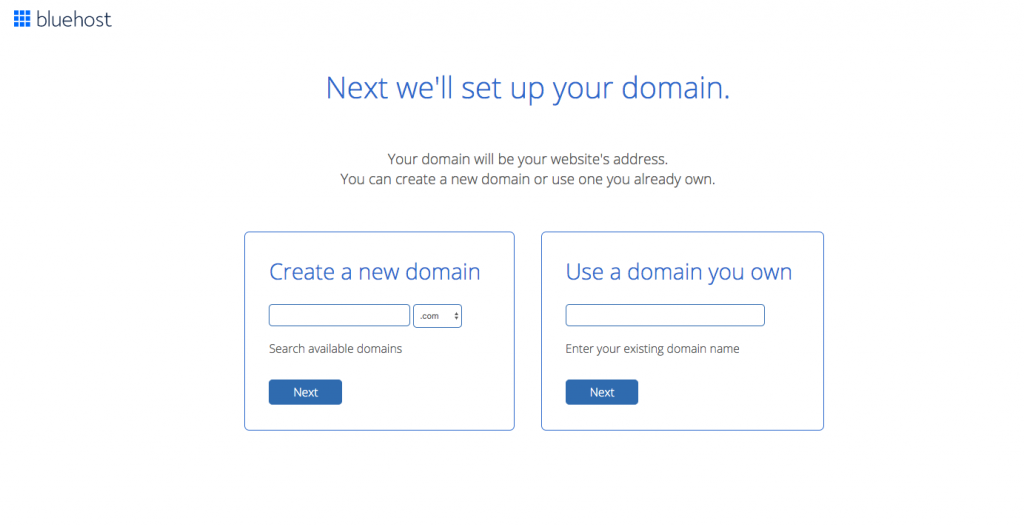 Step 3: Fill Out Your Account Info
When you click next you will be directed to a page where you will have to fill out your information and complete your payment
Note: Bluehost doesn't offer monthly payments and if you pay for 2-3 years you'll get a bigger discount than if you pay for a year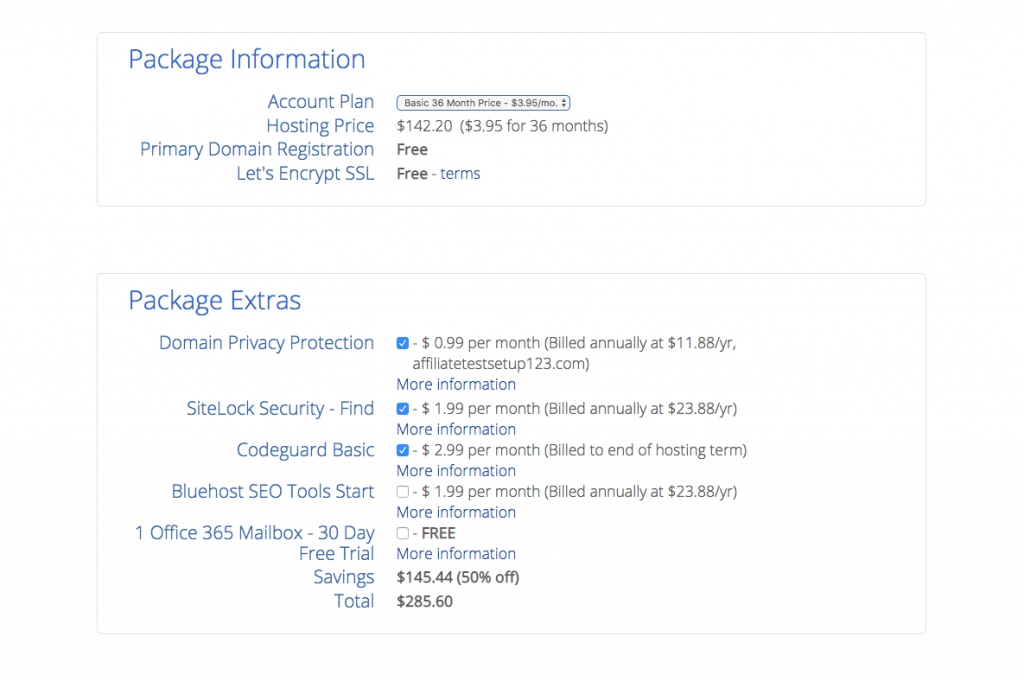 You can skip the extras if you don't want them and check the terms and services then hit submit
*Happy dance* you now have your own space at Bluehost!
Next, create your password and log in to your account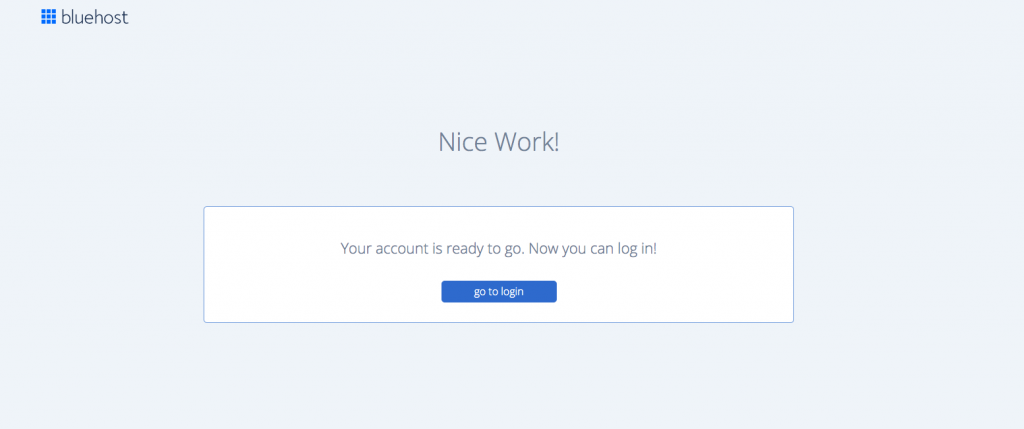 Step 4: Set Up WordPress
Now that you're logged in simply choose a theme or skip the process and then with a one-click you auto-install WordPress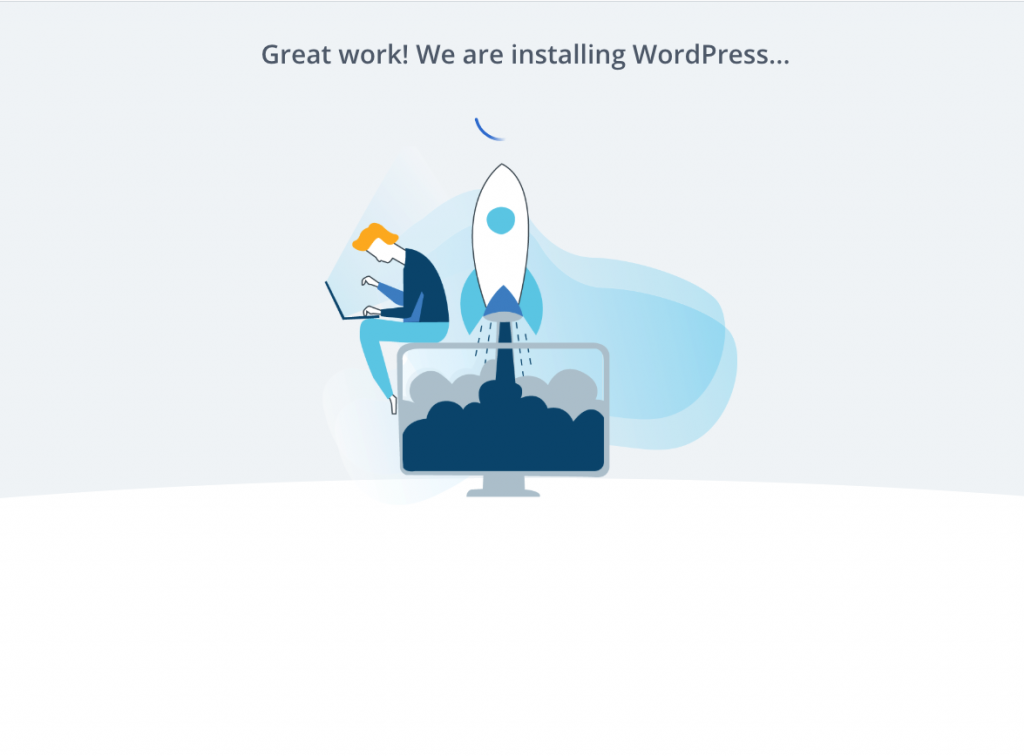 Next click "Start Building"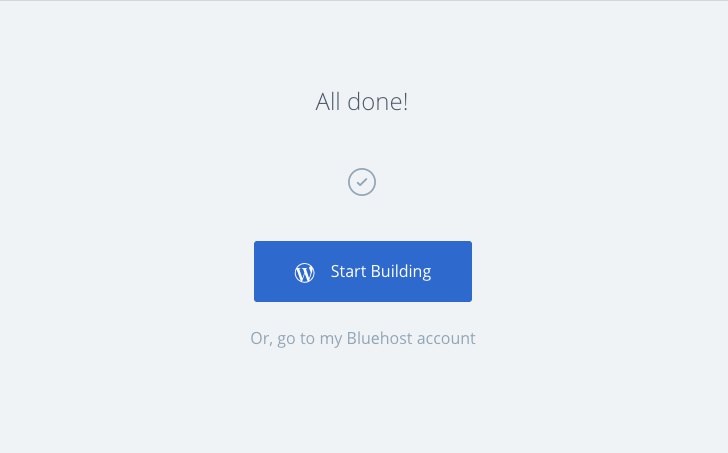 That's it!
You're done
Your blog is officially hosted on Bluehost! awesooome
Wrapping Up
These are the main reasons why Bluehost is the best host for new bloggers
Remember when you are new to the blogging world you need time to focus more on publishing content, marketing your blog and educating yourself about blogging
You will not have time to move from one host to another
That's why Bluehost is the perfect host for you
You will run your blog with ease and if there is a need for help the support team is always ready to help you
I hope this post helped you, please show some love kindly share with your peeps and don't forget to follow me on Pinterest

Mathea Ford is a blogger, dietitian and mom of 2 just working on this blog to make life a little better for those around me. Check out her latest posts