(Last Updated On: March 2, 2021)
I finally did it! *happy dance*
I've been working tirelessly to get one thousand pageviews in one month
I know I'm not alone
It's every new blogger's goal to get 1k page views in a month
Some get there easily and some, well, they fail miserably
I was one of those who was always failing to reach the 1k mark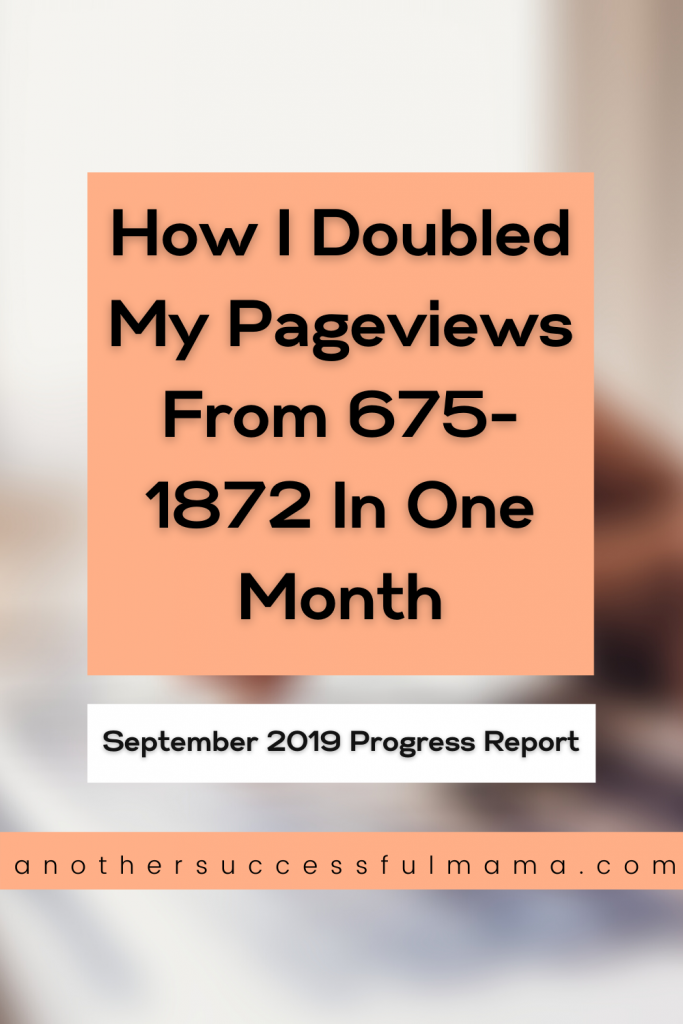 Thank goodness September was a beautiful month
Finally came up with awesome ideas and reached my 1k pageview mark
It was my dream
Failing to get 1k page views in a month was driving me crazy
I want to help you get your first 1k pageviews or double your traffic and I'm sharing all my secrets in this report
I tried many techniques since the day I relaunched this blog
In case you are new here, I relaunched this blog on May 8 2019
I had 0 readers at the beginning and managed to get 658 page views in 24 days
Since then my goal was to reach 1k pageviews
NOTE: I don't publish monthly income/progress reports because I want you to benefit from my reports, posting them monthly might end up boring and demotivating you, (for instance, if my traffic or income keep decreasing every month) My aim is to motivate and help you grow your blog so I have decided to publish milestone income/progress reports. This means I will only publish a report whenever I hit a goal
My Blog Traffic Stats From May-August
My traffic was fluctuating since May
The reason being, I love focusing more on 1 traffic source at a time so that I can see what works and what doesn't
And lately I've been focussing more on getting traffic from Google and one of my posts ranked #1
Though this post was bringing in traffic it wasn't enough since I was getting Google traffic from just one blog post
There is something that I've discovered about Google traffic and will share with you later
For now, let me show you my traffic stats since May
May 8-31 2019: 658 Pageviews + 6 Blog Posts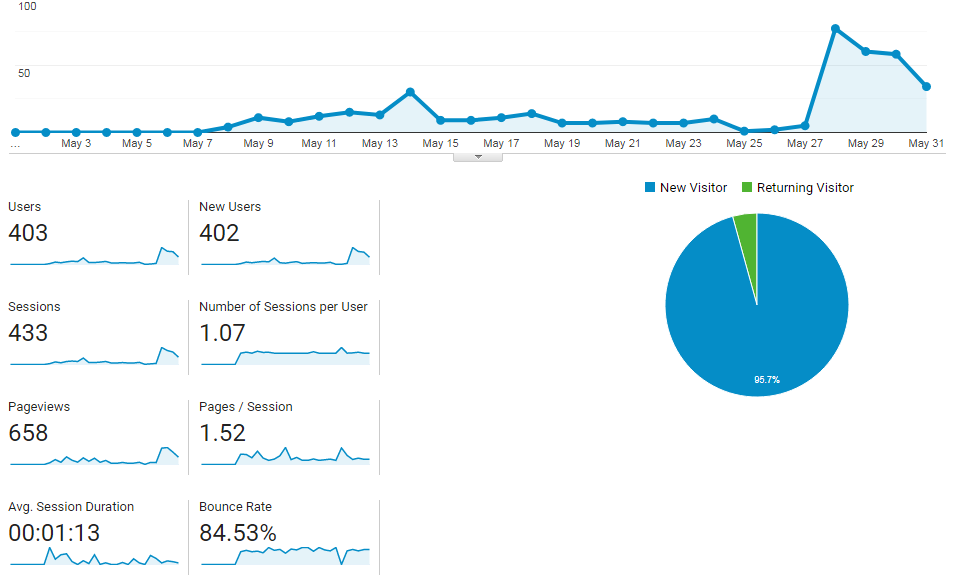 My main source of traffic was Pinterest and my landing page was a contact form tutorial
I featured successful bloggers and I reached out to them letting them know that I have used their contact pages as examples on my post
They were 4 and the two of them responded, that's Meera Kothand and Elna Cain and they also shared my post on Pinterest and got 100 shares in less than 2 weeks!
As for the income I made $25 in May
YOUR TAKEAWAY: Try to link back to other bloggers or write a roundup post featuring bloggers in your niche and contact them when your post goes live, they will share your post as a thank you and you will gain more traffic
June 1-30 2019: 819 Pageviews + 7 Blog Posts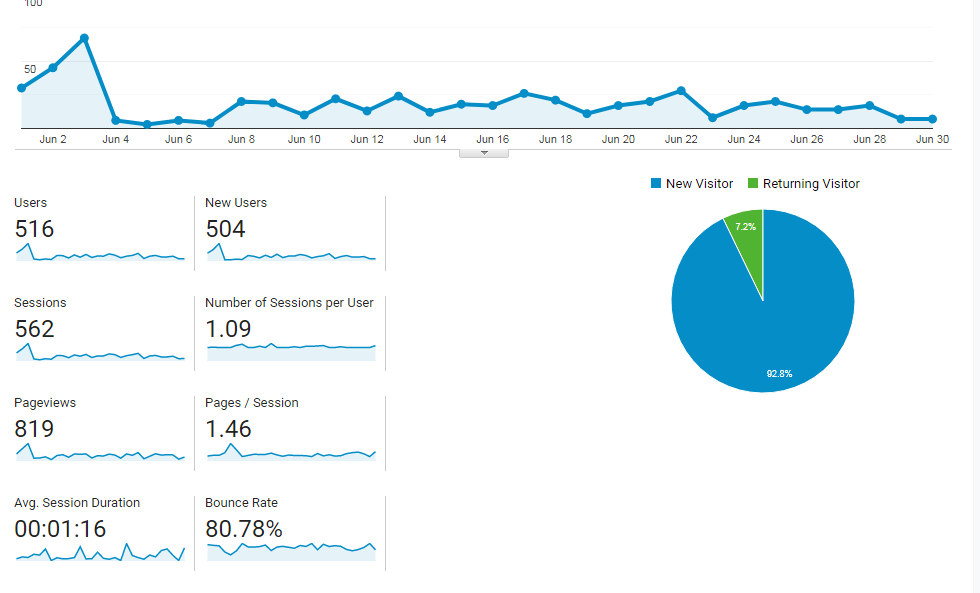 In June my main traffic source was Pinterest
I was a bit busy working on more WPForms tutorials and I made my first $100+ more details on this post
I didn't have time to pin on Pinterest so I used Tailwind to schedule my pins, that's why I managed to get more traffic from Pinterest
YOUR TAKEAWAY: Don't let your Pinterest account die because you are busy creating content, use Tailwind to schedule your pins it will pin for you whilst you are busy working on your blog
July 1-31 2019: 769 Pageviews + 2 Blog Posts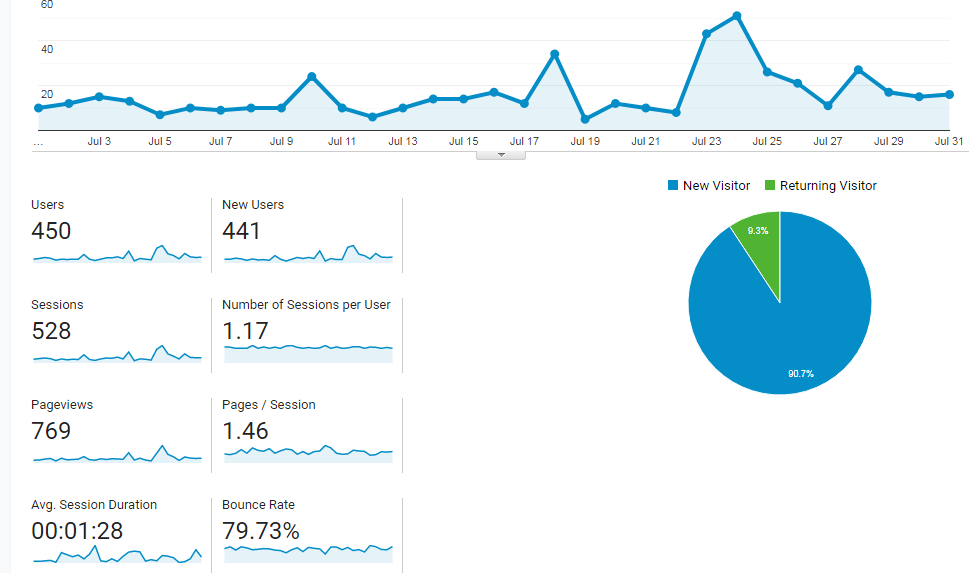 Pinterest was still my main traffic source
I think my traffic decreased because I wasn't spending more time on Pinterest
I couldn't schedule my pins with Tailwind because my free trial was over, you only schedule 100 pins for free so had scheduled 100 pins already
But on the other side, the same Tailwind was promoting this post for me
When you are a Tailwind affiliate and write a post for them they will review your post and promote it if they like it
My Google traffic was also increasing and my main landing page was a ShareASale post
As for the income I made $122.30
YOUR TAKEAWAY: Don't rely on Pinterest alone optimize your posts for SEO and get free traffic from Google as well
August 2019 1-31: 675 Pageviews + 4 Blog Posts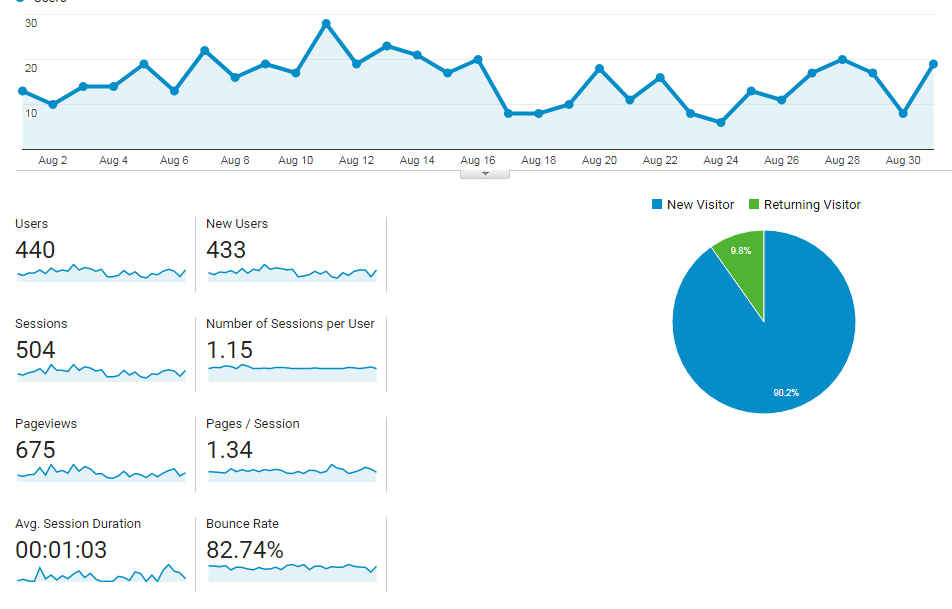 My main traffic source was Google in August and my main landing page was a post on how to get approved on ShareASale
Though my traffic decreased I was happy because my blog post was ranking at #1 on Google and Bing
This was a dream come true lol
Follow this guide if you want to optimize your post and rank #1 as well
I promised to share with you what I have discovered from Google
I've discovered that it's easy to get Google traffic on your list as compared to Pinterest traffic. Got 30 subscribers in a month from one blog post
YOUR TAKEAWAY: Create a freebie/content upgrade for your high performing blog post to grow your email list
There you have it! My traffic stats since May
Now let's jump into September and see how I managed to double my traffic
How I Doubled My Pageviews From 675-1872 In September 2019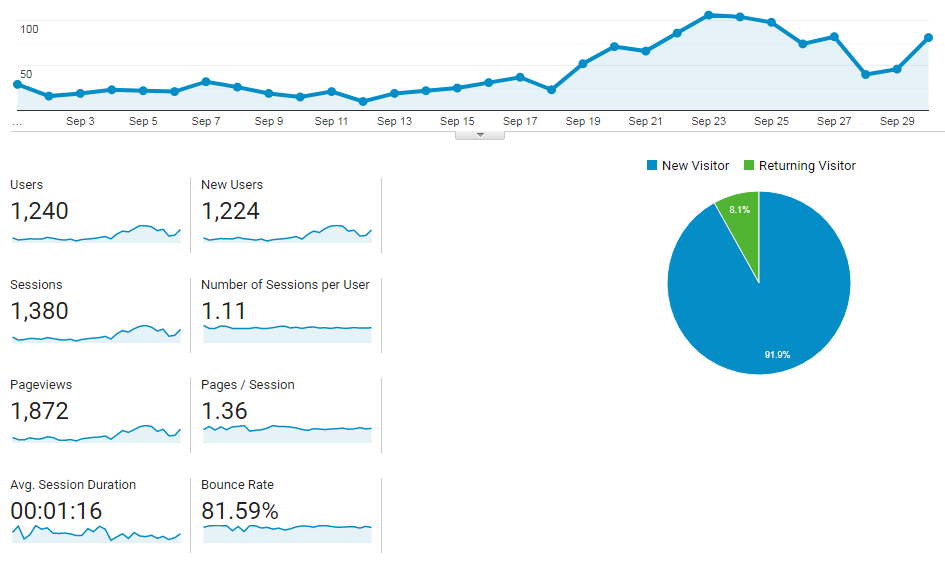 I guess you've noticed that I don't plan my work
Sometimes I publish 6 posts and sometimes 2
I just do what comes in my mind, not cool
I really have to change,
So I'm now planning to start creating daily and weekly blog planners so that I can get organised and be more productive
In September I published 3 posts and something came in my mind
My old posts were not bringing in traffic
Some of them had no shares at all but I knew they were helpful and deserved my reader's attention
And some weren't even read, they were there sitting on my blog and nobody cared
That was heartbreaking
So I switched to incognito and visited my blog as a reader, not Zayacy
I pretended as if I'm reading someone's blog and I read all my old posts one by one
You can't believe what I discovered
Some of my posts were horrible
Nobody would waste their time reading such posts let alone sharing
I even unpublished 2 of them
And did a few tweaks on the other posts and that led to the traffic increase
Here's what I did to my post that resulted in more shares and more pageviews:
Proofread My Old Blog Posts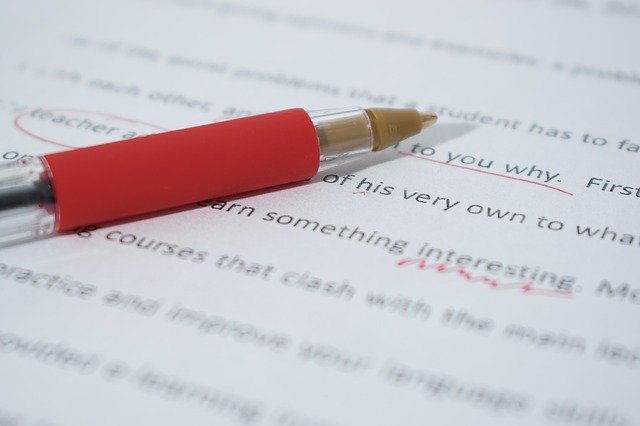 I'm not an English native speaker and I'm still learning English
My English is gradually improving
That being said, I don't have money to hire a proofreader so I rely heavily on Grammarly (a free proofreading tool)
Some of my posts had a bunch of grammar errors
And some of the sentences didn't make sense at all
So I proofread and made some corrections using my improved language skills and Grammarly
Updated My Old Blog Posts
Some posts were okay as far as grammar is concerned
But they were lacking information
Folks love sharing posts with lots of information
More info + more value = more shares
So I added more information
For example, this post about free tools for bloggers was free from grammar errors
But some of the tools didn't have enough descriptions
And I also removed unnecessary information on some posts
Changed My Old Blog Posts' Titles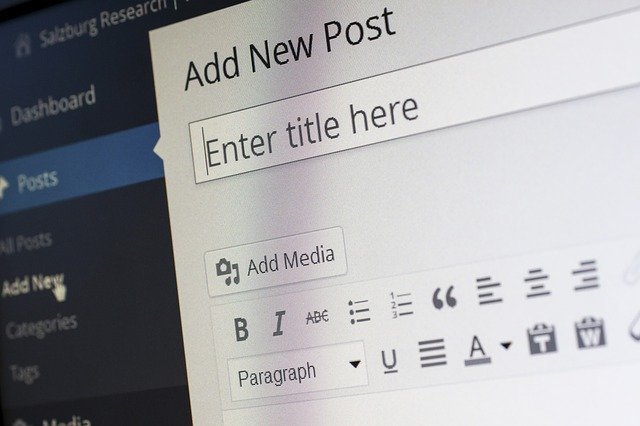 I remember Neil Patel suggesting that we should write about 25 titles per post and pick the best
Henneke of Enchanting Marketing says:
"The first headline you write is your warming-up exercise.
Keep going. Write ten, twelve, thirty headlines. Play with different templates. Have fun with different words."
Well these gurus aren't crazy
They are expert content creators so they know what they are talking about, they've been in the industry for years
But I ignored their advice
Only wrote one title and that's it
That resulted in ZERO shares and ZERO engagement
Lesson learnt the hard way
Some posts had gold info but the titles weren't enticing so nobody cared to read them
For example, this post had ZERO shares before but now has more than 600 shares
And this post had no shares as well but now has more than 300 shares
The first post had a misleading title at first that even got me disapproved by Google Adsense when I applied
How To Cheat On Your Readers Without Feeling Guilty that was the title and Google Adsense couldn't approve me the reason being BJ containing misleading content
I knew it was this title I also didn't feel comfortable with it but just wanted to sound clever lol
So I changed the title to How To Blog More Without Writing, Google Adsense loved it and I was approved
Don't look around for Google ads for some reasons I deactivated my account, I will write a full post about it, so remember to allow Blogger's Jungle to send notifications so that you won't miss the post
The title was okay for Google but wasn't attracting any readers so I changed it to How To Blog More Without Writing A Word and the post got 500 shares in a month!
The same goes with the second post
Changed it from 15 blogging Tools You Should Use In 2019 (For Serious Bloggers) to 15 Free Blogging Tools That Will Help You Run Your Blog Like A Pro
The secret is, your title should address how your post is going to help your readers
Changed My Pin Designs
Pinterest experts are right when they say "brand your pins"
I didn't brand my pins before and it became hard to create pins for every post
I had to come up with font pairing ideas and colours to use every time
And ended up creating ugly pins
So I selected four (brand) fonts and I now use my brand colours on my pins (the same colours that I use on this blog)
This resulted in more repins and ease of work
Here are some examples: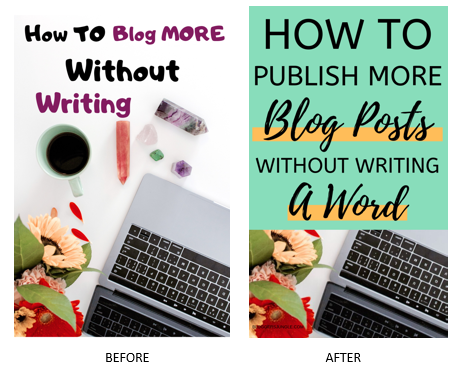 And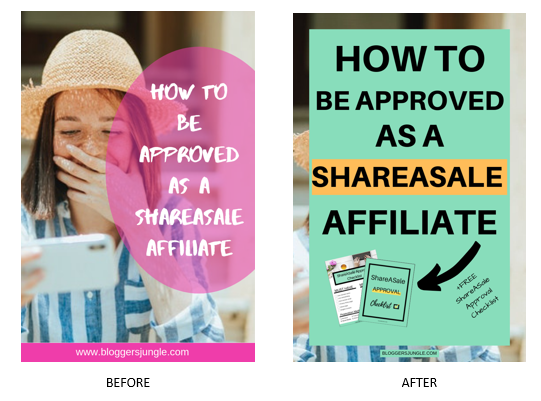 That's much better right?
I'm now pairing Aileron Heavy with Lemon Tuesday and AbeeZee with Playlist Script
Update: I have rebranded my blog it was BloggersJungle.com now it's Another Successful Mama
Upgraded To Tailwind Plus

Using Pinterest without Tailwind is like walking in a hot desert without a bottle of water
If you survive you won't reach your destination faster
As a busy person, I had to upgrade to Tailwind plus so that I can survive on Pinterest
I guess you know that you have to stay active on Pinterest for you to gain more viewers and followers
Tailwind gives you one free month of Tailwind plus when you join so I upgraded at a 0 cost
Scheduled my pins and also shared them on Tailwind tribes
Which resulted in more traffic
Oh I almost forgot I made $126 in September
My Goals For The Coming Months
Now that I've reached the 1k pageviews mark I'm now aiming for 5k pageviews
As for the income, my goal is to make my first $500 in a month
I've never guest posted on any site before so I want to try guest posting and reach a larger audience
Over To You
How did your blog go in September?
What methods do you use to drive traffic to your blog?
I hope this post helped you, please show some love kindly share with your peeps and don't forget to follow me on Pinterest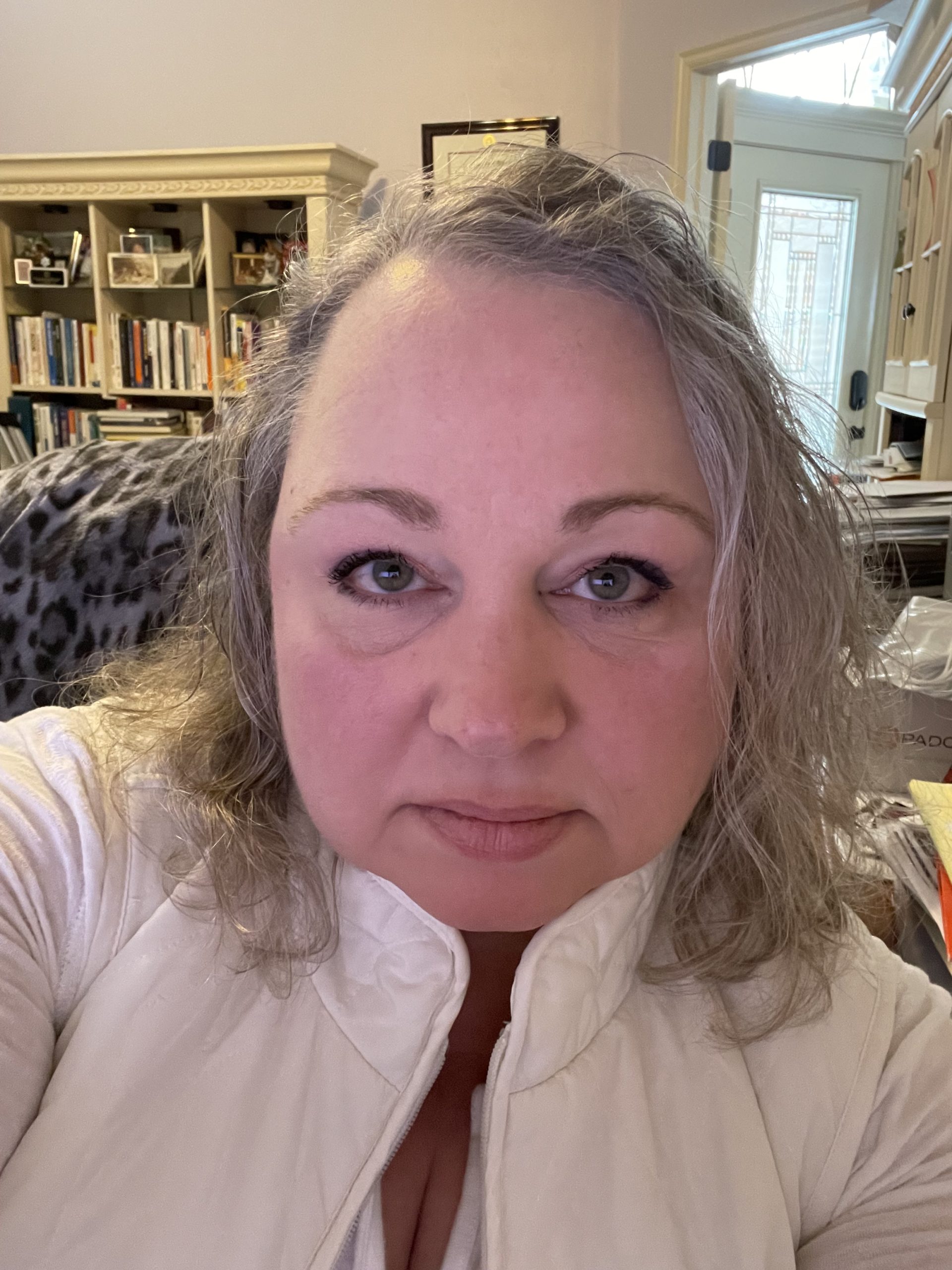 Mathea Ford is a blogger, dietitian and mom of 2 just working on this blog to make life a little better for those around me. Check out her latest posts